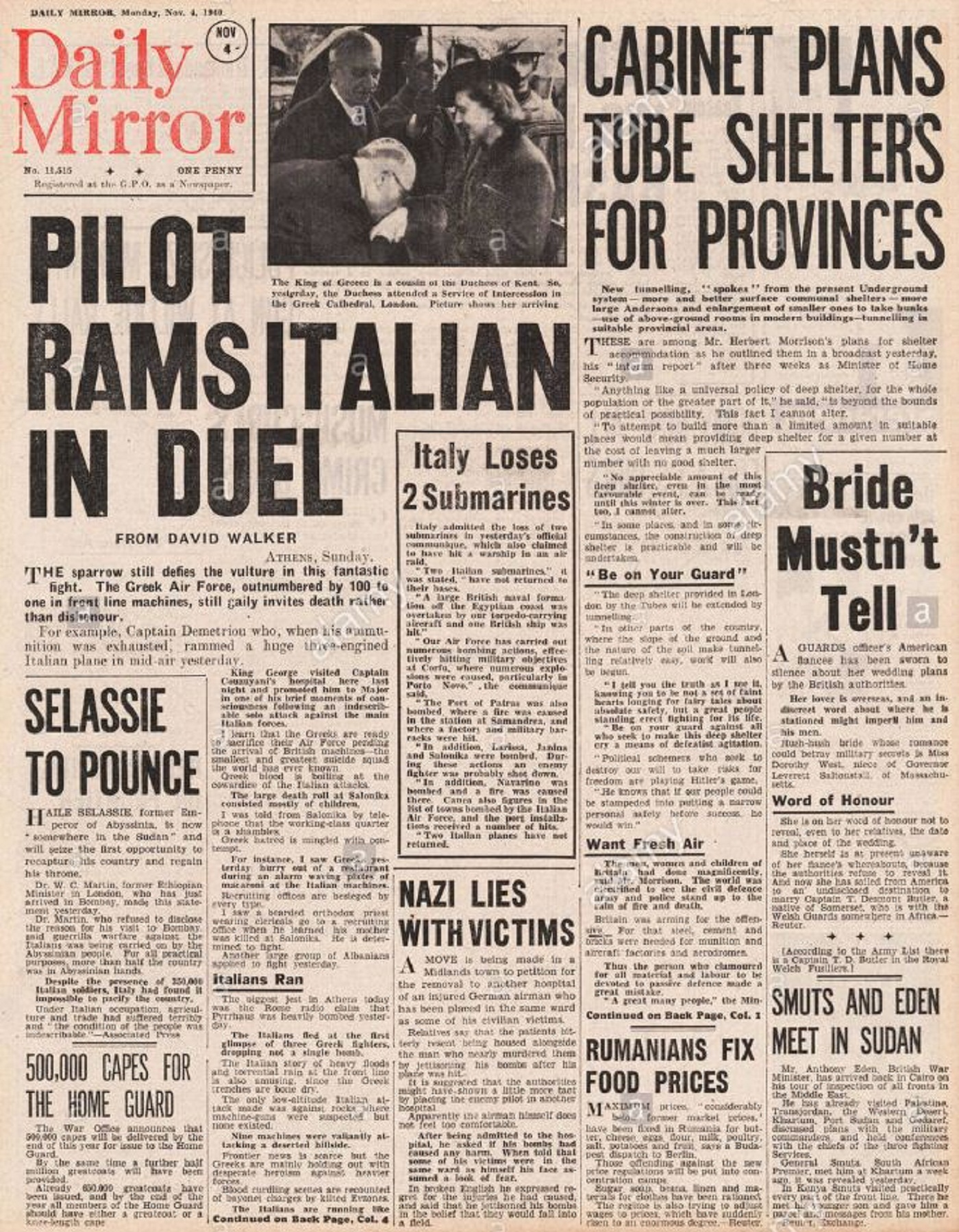 Mystery solved! The Greek "kamikaze" who rammed an Italian CANT Z.1007 bomber
WW2, WW2 in Greece
By Pierre Kosmidis
A frontpage of the "Daily Mirror" newspaper, dated November 4, 1940, features the story of Greek fighter pilot "Captain Demetriou, who, when his ammunition was exhausted, rammed a huge three-engined Italian plane in mid-air yesterday".
This "kamikaze" attack was not the first during WW2 and certainly not the last. The first ramming attack of an enemy aircraft during WW2 was carried out by the Polish Air Force pilot Lieutenant Colonel Leopold Pamuła on 1 September 1939 over Łomianki near Warsaw with his damaged PZL P.11c.
Several RAF pilots carried out ramming attacks against Luftwaffe aircraft over Britain from August to November 1940.
Looking into the files of the Royal Hellenic Air Force during WW2, no such name as "Captain Demetriou" exists, especially linked to a "kamikaze" attack against a Regia Aeronautica (Royal Italian Air Force) bomber.
The story of the "Daily Mirror" though bears striking resemblance to the ramming of an Italian Cant Z.1007 bomber aircraft on Saturday November 2nd, 1940 over Thessaloniki.
On November 2, a squadron of 15 Italian CANT Z.1007 bombers, with Fiat CR.42 fighter escorts, headed towards Thessaloniki.
Soon they were spotted and intercepted by Greek PZL P.24 fighters of the 22nd Squadron.
During the dogfights, three of the bombers were shot down, while the rest reached their targets, and then started to return to their base in Albania.
Marinos Mitralexis, who had already shot down one bomber, was now out of ammunition, so he aimed the nose of his PZL P. 24 right into an enemy bomber's tail, smashing the rudder.
He then had to make an emergency landing near the crashed bomber. Having landed, Mitralexis arrested the four surviving crew members of the enemy aircraft using his pistol.
For this extraordinary feat, Mitralexis was promoted and awarded a number of medals, including Greece's highest award for bravery, the Gold Cross of Valour.
He was the only Air Force officer to be awarded it during the war. When Greece capitulated to Germany (April 1941) he and the rest of the surviving Greek Air Force personnel and aircraft escaped to North Africa to join the Allied forces there.
In September 1948, during a routine training flight in an Airspeed Oxford, Mitralexis was killed in the south Aegean Sea.