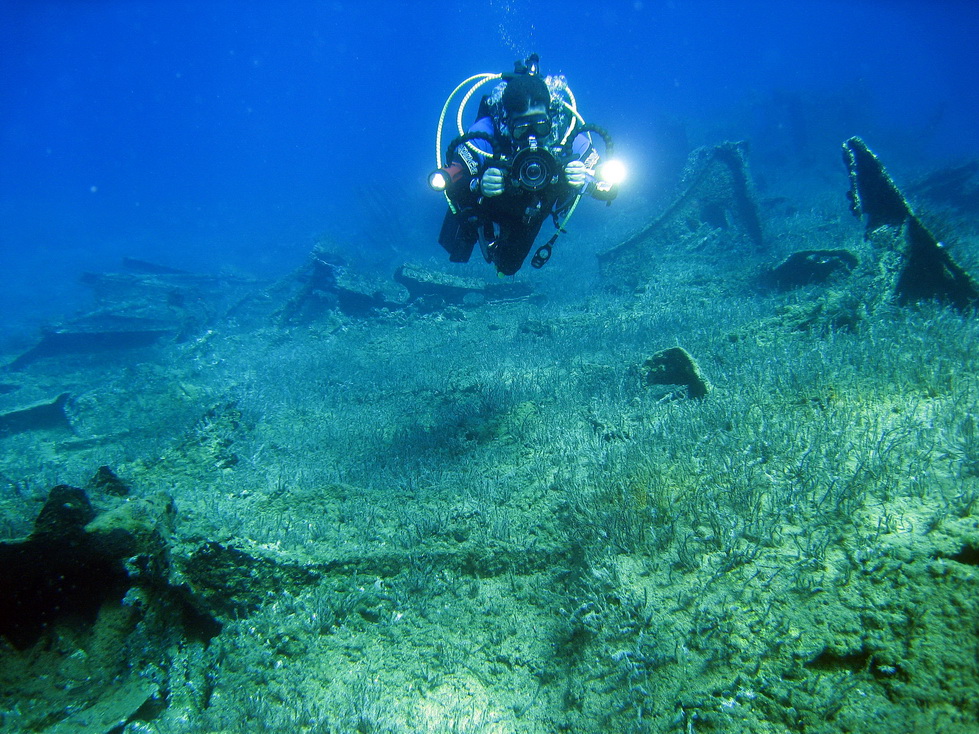 Diving at the "Volta" shipwreck, sunk on Saturday October 9, 1943, during the Battle of Leros
Interviews, Shipwrecks, WW2, WW2 in Greece, WW2 Wrecks
By Pierre Kosmidis
Photos and videos by

Stratos Koufos

 used by permission
Additional information on the wreck by

Dr. Peter Schenk
Today the Greek islands of the Dodecanese are popular tourist destinations. However in 1943 they were the scene of the last successful German airborne assault and naval operations of the Second World War in the Mediterranean Sea.
The Eastern Aegean was the setting for a series of German air-sea landings, something not normally associated with the Wehrmacht.
German infantry carried out beach assaults and, unusually, Fallschirmjäger were deployed in their intended role as paratroopers, more than two years after sustaining frightful losses in Crete.
Both sides relied on air and naval forces, as well as conventional and unconventional ground forces.
German paratroopers were drawn from the Luftwaffe and Division Brandenburg; the latter also fielded coastal raiders and assault troops.
The Battle for the Dodecanese, following the Italian armistice in September 1943, was bitter and hard. Casualties from all involved sides were heavy and the seabed around the islands is littered with shipwrecks, aircraft wrecks and other reminders of those fateful days.
Mr. Stratos Koufos, an experienced scuba diver, SSI Dive control specialty trainer and dive control specialist, CMAS 3*** Openwater, PADI Divemaster, BSAC 2** sports diver, NAUI Openwater II, has visited one of those shipwrecks, which lays at a depth of just 10 metres, off Aspronissia islands, between Leros and Lipsi.
With the expert knowledge of acclaimed author and researcher Dr. Peter Schenk the shipwreck is confirmed as the Italian 2779 tons auxiliary ship "A. Volta", sunk by two British motor torpedo boats on Saturday 9 October 1943.
Auxiliary or depot ships are commonly used by the Navy as a mobile or fixed base for submarines, destroyers, minesweepers, fast attack craft, landing craft, or other small ships with limited space for maintenance equipment and crew dining, berthing and relaxation.
Mr. Stratos Koufos describes to www.ww2wrecks.com his experience diving at the wreck of the "Volta"
"It all started back in 2010 when I started documenting all accessible WW2 shipwrecks of Leros. I learned from locals about the "italian wreck" and wanted to explore it and find out more, while documenting the remains of the ship. Mr. Sideris took me to the exact spot and I took photos and video of the wreck"
"The wreck is located at the coordinates 37°18'32.82″ and 26°48'5.17″ at a depth of just 10 metres."
"According to local eyewitnesses, the wreck was cut and sold as scrap postwar and therefore only the keel remains at the seabed."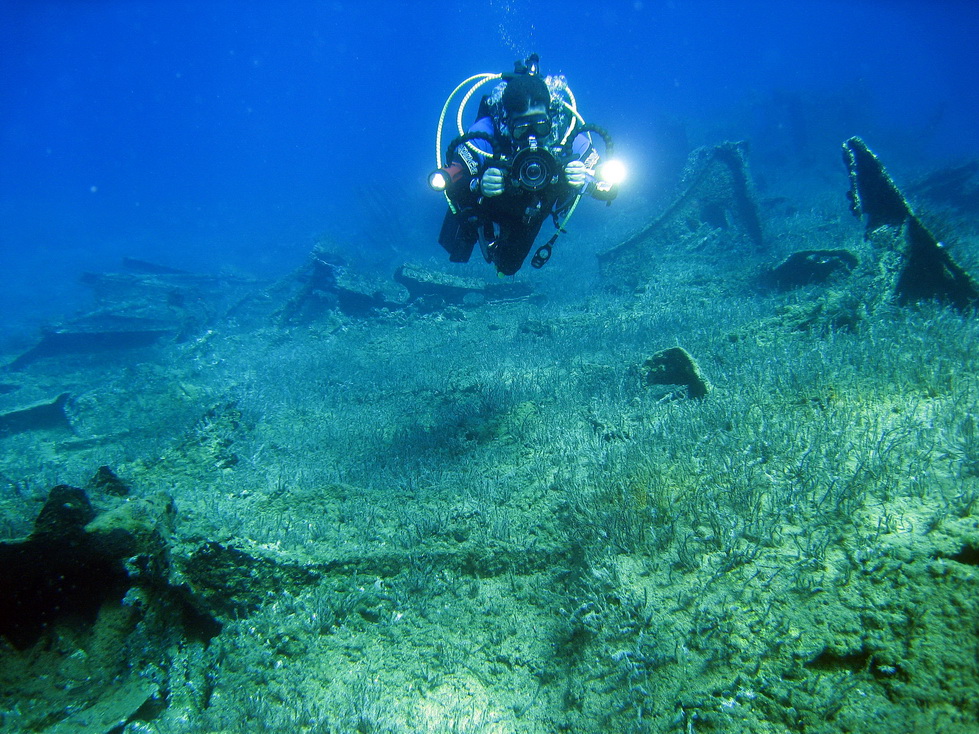 Generalleutnant Müller recorded German casualties during the battles for Kos and Leros as 260 killed, 746 wounded and 162 missing. Actual figures are probably higher.
The Italians suffered most of all. According to German Naval sources, of nearly 4,000 mainly Italian prisoners of war on board the transports Donizetti and Sinfra, close on 3,400 went down when both ships were sunk in Allied actions.
Many more men were lost while in transit outside Aegean waters.
A report by M.O.1 for the period 11 September to 17 November 1943 puts Allied casualties at more than 5,000 Army personnel; another 500 Naval personnel were reported killed or missing.
One submarine was listed as missing (in fact three were lost), fifteen ships and various other craft had been sunk or remained unaccounted for; ten vessels were damaged (the latter figure does not appear to include submarines); 100 aircraft, including eleven American machines, were written off and twenty-eight more were damaged.
Aircrew casualties were not mentioned.