Bunker Archaeology: Exploring the Fleves island Naval Fortress of WW2, with Konstantinos Kirimis
Contact, Interviews, Then and Now, WW2, WW2 in Greece, WW2 Wrecks
By Pierre Kosmidis
Photos, research and information by Konstantinos Kirimis, used by permission
The vital seaways to the Port of Piraeus were protected by a network of Naval Fortresses, built in the years before WW2 by the Greek government, in the islands of the Saronic Gulf.
One such naval fortress was located on the island of Fleves, consisting of large caliber gun batteries, anti aircraft guns and other auxiliary facilities.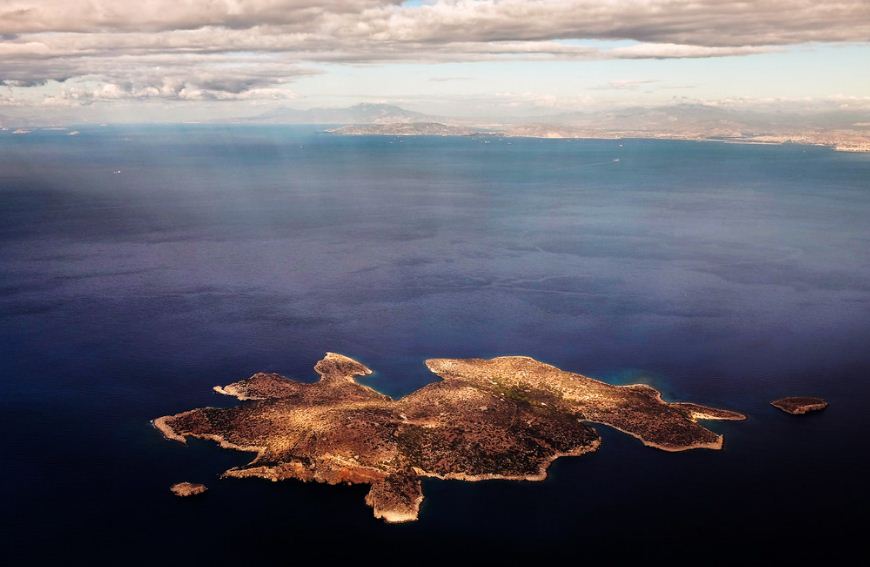 These structures withstood the test of Time and remind us of the turbulent past.
Respected researcher and author Konstantinos Kirimis shares with www.ww2wrecks.com his findings on the island of Fleves, shedding light  on yet another forgotten chapter of WW2 in Greece.
"Apart from its main defense infrastructures, such as the naval guns batteries, there were several secondary but equally interesting infrastructures at Fleves island Naval Fortress", Konstantinos Kirimis  says.
"The purpose of the Gun Fire-Control Room was to coordinate and direct the fire, of the naval batteries on the island. It consisted of both over and underground sections. 
In the upper part there were observation posts and range finders. In the basement there were auxiliary areas. Heavy steel doors both at the entrance and in the interior, were armoured, coming from a decommissioned battleship .The roof was also armoured with steel bars."
There were two large search lights at the Fleves Naval Fortress, each one of them was approximately two meters wide. 
When not in use, they were placed in an underground facility,  about 8 meters deep,  to protect and significantly reduce their trace.
The search lights were lifted in their positions by specially developed hydraulic elevators, illuminating the target. The construction was done by the Greek company "Dimitrios and Ioannis K. Zannos ".
Completion of the excavation of the shaft and elevator mechanism, were at their peak during the month of September 1940.
The  official commissioning of the headlights was held on 10 December 1940, just a few weeks after the Italian failed attempt to invade Greece was initiated on October 28, 1940.
Despite the fact that the search lights were ready to be commissioned by November 1940, technical difficulties delayed their deployment by about a month.
Fleves, being an island with scarce drinking water supplies, meant that the Greeks had to construct large underground water tanks, with a capacity of 65 tonnes, in order to cater for the needs of the men serving at the naval Fortress.
 The water facilities consisted of two cylindrical tanks, with a diameter of five 5 meters each.
The entrance is controlled by an armored door, and there is also a lighting installation. At the first level are the windows that provide access to the two tanks. 
At the lower level is the pumping station with  the hydraulic mechanisms. 
The thickness of the water tank walls, made of reinforced concrete is 70 centimeters at the ceiling and 50 centimeters at the sides of the cylinders.
Konstantinos Kirimis would like to thank the Hellenic Navy History Service for granting access to the historical archives of the Supreme Defense Command, from 1936 to 1940.