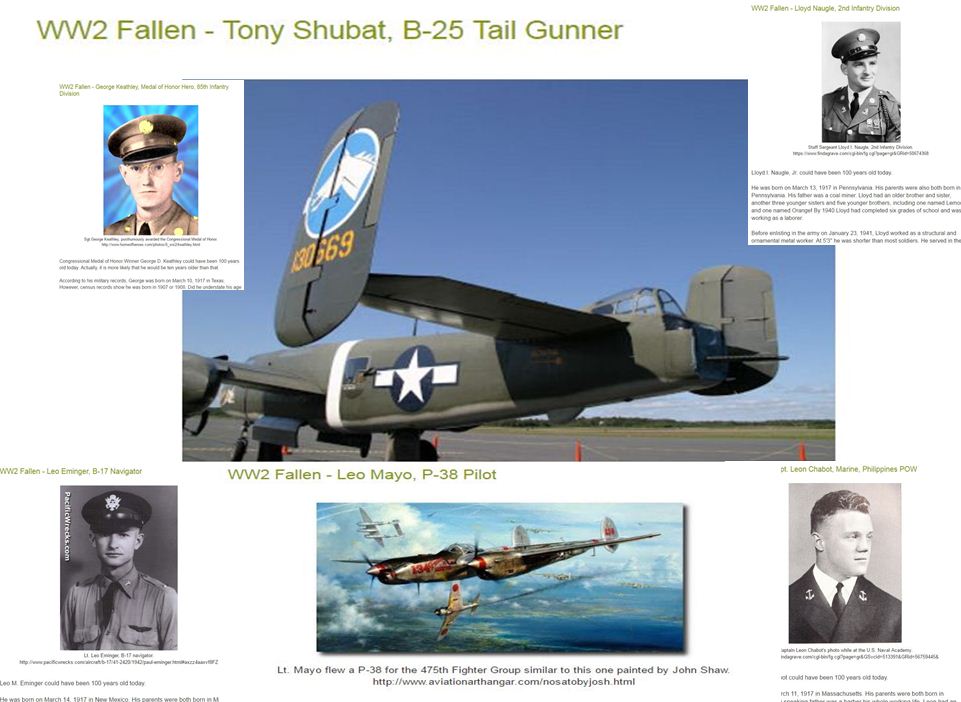 WW2 Fallen 100 Project: Remembering the 400,000 Americans who lost their lives during WW2
Interviews, WW2
By Pierre Kosmidis
At the start of this year, Don Milne from Bountiful, Utah, started a project that every day tells the story of an World War 2 American serviceman or woman who never made it home from the war. The project's aim is to bring attention to the many Americans who lost their lives during World War 2 and never returned home to enjoy the fruits of the victory they paid for with their lives.
Each day the blog highlights the 100 year birth date of one of the fallen. Milne works as banker by day, but has been a lifelong a student of history during his free time. This project gives him the chance to blend his interest in history with a tribute to the fallen.
What was your inspiration to start your project?
The Vietnam Memorial has a wall with each of the names of the fallen. A similar memorial for World War 2 would have been 8 times the size.
Instead the World War 2 Memorial has the Freedom Wall with more than 4,000 stars with each star representing 100 of the fallen.
Each of these men and women had a story. Each lost out living up to fifty or more years. Hardly any of them wanted to go to war. For the most part they are forgotten. Yet, as body, their collective action made victory possible and created a far brighter world than would have resulted from an Axis victory.
With the 75th anniversary of America's involvement in WW2 occurring over the next four years, it will also be the 100th year since the birth of many of the fallen.
I thought it would make a fitting tribute to profile one of the fallen each day on his/her 100th birthday — a celebration they never had a chance to reach because they sacrificed their lives in the cause of freedom.
Hopefully this will bring greater attention to the great debt we owe these fallen warriors who never returned to a victory parade, an embrace of a mother or sweetheart, a future of a long and fulfilled life.
While there are, rightly, websites dedicated to honoring our WW2 veterans, I think we can do more to honor those who never had a chance to be vets, hence my WW2 Fallen 100 project.
How do you find details, photos etc. of those soldiers featured?
This project would not be possible without the resources of ancestry.com. Ancestry.com has links to military records that often includes records of interment, enlistment, and gravesite.
It also has census records for 1920, 1930, and 1940, so we can get a snapshot of each person's family.
Sometimes there are even links to yearbooks with pictures. Another key resource linked from ancestry.com is findagrave.com.
This often includes photos of the deceased and the gravestone. The first step each day is to do a search for all the servicemen born on that day that died during the war. This usually results in three to six choices. I pick the one with the most available background information.
From this primary source, which identifies what unit the deceased served in, it is possible to find links to secondary resources specific to that unit.
These secondary sources often have specific details related to the deaths of the fallen. These secondary resources often have photos from the units.
Sadly, photos of these fallen are not as common as hoped. Perhaps with the growing community made possible by the internet, more photos may be made available by family members.
What is your aim, with your posts?
More than 400,000 Americans lost their lives while serving in the military during WW2. Our nation had one-third of the current population back then, so comparably that would be like seeing 1,200,000 war casualties in our day. That would be a big deal now.
We should recognize that it was a big deal then and time should not diminish the impact. Because these fallen never came home, they missed enjoying the peace they won.
The Freedom Wall at the World War 2 Memorial helps us honor these men and women as a group, but I think they deserve some individual recognition. So each day I plan to profile one of the fallen on his/her 100th birthday.
What is the most memorable story, which touched you the most and why?
So far I have profiled 67 men and 1 woman. There are many touching stories, including two brothers who died together when the Japanese sank the USS Arizona at Pearl Harbor, the airman who bled out on what was scheduled to be his final mission, the soldier who was an only child who died on Christmas Day.
However, the most memorable would be the story of Lt. Jackson Wiles, a Navy officer who died supporting the D-Day landing.
An intriguing note for Lt. Wiles was left on the findagrave.com website in 2002, 58 years after his death:
My Dearest Jackson,
I have been thinking of you as today February 11 is your birthday and I just wanted to wish you a HAPPY BIRTHDAY! You will forever be in my heart. I shall always remember you with your good looks and bright smile.
Your former girlfriend.
– June Staley
What are your immediate plans regarding your stories?
I have long enjoyed writing and reading, especially history, and even more specifically the Second World War.
I don't have hobbies like photography or golf or TV so spending an hour or two a day on this project is very enjoyable.
I plan to do a story every day until September 2020 which will be the 75th anniversary of the end of World War 2.
By that point I will have profiled around 1,350 of the fallen.
What has been the feedback so far?
With a project like this, the feedback is naturally going to be positive. I am starting to get suggestions from others on specific people to profile.
At this point I am looking for more names to round out those born in 1917, but I can also start scheduling profiles for those born in 1918 to run next year.
People can contact me at ww2fallen100 [at] gmail dot com. Also, see 9 Questions About the WW2 Fallen 100 Project for more background on this project.
Thanks to all those who share these stories with others.
People are welcome to follow the WW2 Fallen 100 blog , They can also stay updated by joining the WW2 Fallen 100 Facebook group  or follow on Twitter with @ww2fallen100 
The fallen made the freedoms we enjoy possible.
The least we can do to earn this freedom is to remember them and live full lives of purpose that they never had for themselves.