WW2 Bunker Archaeology: The 102 mm gun emplacements of Aegina
Interviews, WW2, WW2 in Greece, WW2 Wrecks
By Pierre Kosmidis
Photos and additional information by Konstantinos Kyrimis 

used by permission
Author and researcher Mr. Konstantinos Kyrimis, from Greece has visited and documented the Northern Aegina Fortress, a complex of bunkers which were built between 1936 and 1940 by the Greeks, in view of the oncoming World War.
"The Northern Aegina Fortress or BOA, as it is known in Greek, is a very interesting WW2 bunker complex, despite its condition today. Many murals, drawings on the walls of the gun emplacements, as well as the view towards the sea, are of great interest to the visitor" Mr. Kyrimis says.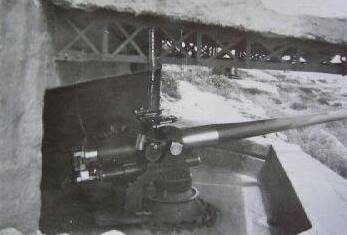 Among the other facilities of the bunker complex, a gun battery, consisting of four 102 mm "Bethlehem" naval guns, which were removed from the obsolete destroyer "Ierax" (Falcon), were positioned on the northeastern tip of Aegina island, close to Athens, Greece.
Each gun was in a specially built concrete emplacement, which allowed an unobstructed view of the seaways leading to the port of Piraeus.
After the capitulation of Greece in April 1941, the Germans promptly moved and secured the bunker complex for their own use and we can still see today some paintings made by the occupying forces on the concrete walls.
"We are led to believe that these drawings, are not random, but since they are in the same positions in all four gun emplacements, they could signify some sort of gun identification", Mr. Kyrimis says to www.ww2wrecks.com
"All the gun emplacements are located at the foothill and are built with cement. Each position had a "porch" on which the gun was placed.
At the end of this "porch" a cement staircase led to the lower level of the gun emplacement, which consisted of an observation and machine gun post, the main entrance to the gun position, an ammunition dump and a corridor connecting all those areas."
"An emergency exit was located in the main area, equipped with a ladder that led directly to the top of the hill, behind the bunker. A series of air ducts, steel doors and plumbing facilities were also part of the complex."
"Today, the bunker is in a rather poor condition, the roofs over the naval guns positions on the "porch" have disappeared, the gun themselves have been removed and we can see some post war graffiti, as well as a German wartime inscription, dated 22/7/ 1943  "MFΒ", possibly meaning Marine Feld Βatterie?" Mr. Kyrimis ponders.
Author and researcher Mr. Konstantinos Kyrimis wishes to thank the following:
• The Hellenic Navy Fund  (Naval Officers Evgenios Papadopoulos  and Athanasios Mavraidopoulos), as well as the PR Dept. of the Hellenic Navy  for the necessary permits to visit the bunker complex.
• The Hellenic Navy Aegina base staff
• Naval Officer Nikos Pantazis
• Giannis Arseniadis for the assistance in the photo documentation
• Thomas Kinalis for his assistance.
• Telis Zervoudis for the WW2 period photo.