Everything You Need to Know: Interview with Jan-Peter Brüning, author of the book Luftwaffe Gravity Knife: Weapon, Tool, Tradition
Interviews, Then and Now, WW2
By Pierre Kosmidis
Photos: ©
Jan-Peter Brüning

, published with his permission

The "gravity knife" used mainly by German paratroopers during the Second World War has gained mythological dimensions.

In many countries it is known today as the "Gravity Knife" but in Germany, the country of its origin, everybody just calls them Kappmesser – Severing Knife or Fallmesser – drop knife. The term "gravity knife" came about because with the help of a lever on its handle, the blade was released by gravity, without the need to use both hands. Its main purpose was to be used by paratroopers or by aircrew of the Luftwaffe to cut the harnesses from their parachutes.
However, its use was not limited to the above, as there are recorded testimonies of its use in the battlefield, in hand to hand combat, when all the available means are used for survival.
More than 350,000 gravity knives were made during the war, while with few variations, it is still used by the German army, while in the collections an authentic knife in functional condition and with little damage to its mechanism or blade is a "holy grail".
The great demand, of course, has created a series of reproduction or cheap imitations, which can easily deceive anyone who does not know the details of the original "gravity knife".
www.ww2wrecks.com asked author and researcher  Jan-Peter Brüning , a paratrooper (reserve) himself, who served 12 years actively (1998 – 2010) and who recently released the second edition of his book "Luftwaffe Gravity Knife: Weapon, Tool , Tradition" to tell us some of the "secrets" behind this much coveted WW2 item.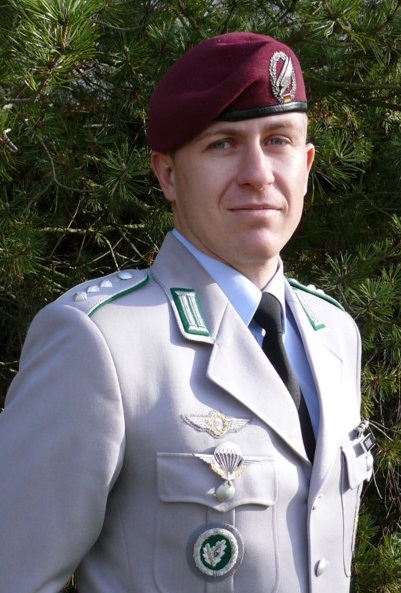 Jan-Peter Brüning's book is released in English and is the most comprehensive record of the history of the "gravity knife", but also the most accurate guide.
With his book  "Luftwaffe Gravity Knife: Weapon, Tool, Tradition", Jan-Peter Brüning not only covers a significant gap in the available resources, but also brings to light the entire history of "gravity knives", thus giving researchers collectors and history enthusiasts a unique tool of knowledge.
What was your inspiration to research the history of the gravity knives?
I grew up in East Germany in the 1980´s where the paratroopers were basically what they call Special Forces today. My dad told me some crazy stories of paratroopers he had met.
Ever since I wanted to join the Fallschirmjägers myself, which I did in 1998 as an officer cadet with the Fallschirmjägerbatallion 314. One piece of equipment I received was the Gravity Knife – the "Kappmesser".
It was only handed out to paratroopers (and tank crews as well) so whenever we were among regular soldiers and got out our jump knives, they always got jealous. The knife was heavy and big but I loved it and started digging a little deeper into its history.
This is when I found out that it was already issued in 1937 – the design had hardly changed in 65 years.
This is when I bumped into Cpt (ret) Mack Pattarozzi (author of the first real book on Luftwaffe Gravity Knives) who had a website at that time. He gave me some advice and I helped him with the translation of some German documents for his book.
I guess it all comes down to the fact, that I have always been a knife guy and I decided at some point that I wanted to preserve this part of my military branch´s history for future generations. In fact the knife was the only item being issued to the German Fallschirmjäger, which had survived since WW2.
Was it hard to obtain all this detailed information on manufacturers that have gone bankrupt 50 or more years ago? Did you get help from other experts?
It truly was difficult to obtain all this information. Surely I had one big advantage over Mack Pattarozzi – I am a German researching the history of a German WW2 item.
I went to the Federal Archives to inspect all the Luftwaffe regulations and really did find some valuable information that simply had been overlooked by everyone else so far.
I contacted a local hobby genealogist in Solingen, who massively contributed to bringing the SMF and Paul Weyersberg story back to life. I drove to the Steinbach area to inspect some old building applications in order to obtain the addresses and location of the F&A Helbig and Malsch & Ambronn facilities; then I personally drove there and talked to the current owners of the F&A Helbig buildings.
They were so surprised to see me walking around there taking pictures – I literally almost got punched in the face at first – but after some explanations of what I was doing they got real interested in the topic, gave me a free tour and even asked for one of my books.
The best story is how I found the granddaughter of Ernst Stöcker (former SMF owner and "Father of the Gravity Knife") in the US:
After I entered some search words into "google books" I found an interesting passage in a book written by a German WW2 veteran who had emigrated to the US in the 1950´s:
"Grandpa Stöcker had a big cutlery factory in Solingen with about 100 workers." it said. Jackpot !!! … I thought. I had the name of the book´s author and the information that it was his wife´s grandfather the passage talked about.
I found the family´s address in the Baltimore area and wrote an old-fashioned letter …. no e-mail, no WhatsApp message but a good old letter.  Two weeks later my phone rang and I was talking to the man, who had actually served in the Luftwaffe and still had his WW2 Gravity Knife ….. . This is how I obtained a picture of Ernst Stöcker sen. and some very valuable information.
I could go on talking for hours about the different ways I obtained all this information, photos, knowledge etc. . It was just so interesting and even somehow relaxing (I guess to some areas of my brain) that even today I cannot stop to keep looking for new info. I am already planning the 3rd edition.
How many gravity knives were produced during WW2?
This is really hard to say as there are no company files available. In my book I came up with some sort of a calculation based on the number of soldiers that served as paratroopers, air crews and Ski-Jäger Troops (Army Special Unit which received these knives in 1944) and additional information.
The result of my calculation shows that altogether at least 350,000 Gravity Knives were manufactured and issued between 1937 and 1945. An additional, unknown number of post war knives were produced for the East and West German military between 1958 – 1968.
At least the West German specimens are identical to the 1943-1945 takedown models. My book shows the tiny little details, which a collector should look for in order to make sure he purchases a war item.
So actually these knives are not as rare as one might think. Still everybody wants one which is what makes them expensive!
Which model is the rarest and why?
There are a few rare types of this knife. The slightly educated collector would answer this question by saying: the SMF type II dagger version.
This is only half true, as all of the original specimens of this type are post war prototypes for military trials conducted in the late 1950´s. There is another prototype version in my book which I consider to be even rarer – a type II knife with a metal head shaped exactly like the 1970's/ 1980's type IV knives. There are other rare post-war knives especially from Steinbach and Leegebruch in East Germany but I believe the collector would rather be focused on the WW2 edged weapons.
Talking about wartime knives – the F&A Helbig specimens are quite rare especially the ones with the stamp of the acceptance inspector 5 on the blade.
Early takedown Weyersberg knives with maker mark on the blade as well as any other model that can be considered a so called Weyersberg "transitional" (the first type II´s with inconsistent features) as well as the late S-marked SMF takedown knives are quite rare.
I have just recently decided for myself though that some of the rarest WW2 specimens belong to the group of non-takedown knives produced in 1942 consisting of a mix of stainless and carbon steel parts.
Apparently stainless steel started to become scarce and thus the Armament Office of the Luftwaffe changed the specification from all stainless steel to carbon steel.
I know only 2 SMF and 2 Weyersberg knives out of this group which included a carbon steel blade which is devoid of the "ROSTFREI (rust-free)" writing. These are super rare as well as the first SMF models from 1937 with the so called "Weimar Eagle" acceptance stamp.
What should a potential buyer look for, in order to avoid fakes?
Copper pins, missing assembly numbers and a hole in the base of the blade are an absolute no go and easy to spot.
But there is one real good copy on the market, which is very hard to spot – always check, if the metal head consists of 2 (original) or 4 (fake) parts; if also the spike spring is devoid of the hole and all numbers on all assemblies match, then you have one of these fakes.
Where can someone buy your book from?
I am doing everything myself – writing, updating, marketing, selling and all logistics. The best way to reserve a copy is to contact me personally via e-mail jpbruening [at] yahoo [dot] de
You can contact me using the above mentioned e-mail address
Please tell us of a story related to gravity knives that impressed you the most, be it in the battlefield or elsewhere?
As I was a bit too late to talk to veterans about the knife, I started looking for documents/ books written by WW2 veterans describing the use of the Gravity Knife and was quite lucky actually finding some stunning war stories.
As we are talking about a knife it should be quite obvious that it was not only used to spread butter on a piece of bread or cut parachute lines or aircraft seat belts. However, when I found various stories that described hand to hand combat situations involving the Gravity Knife, it struck me that I was writing not just about a rescue tool but about a real weapon that was used to kill enemy soldiers in combat.
I have included all these stories in my book and translated them. So now – 73 years after the war – for the first time worldwide collectors can put themselves into the shoes of these brave German fighters and how they used their Gravity Knives to accomplish their mission or simply survive.
Contact the author: jpbruening [at] yahoo [dot] de