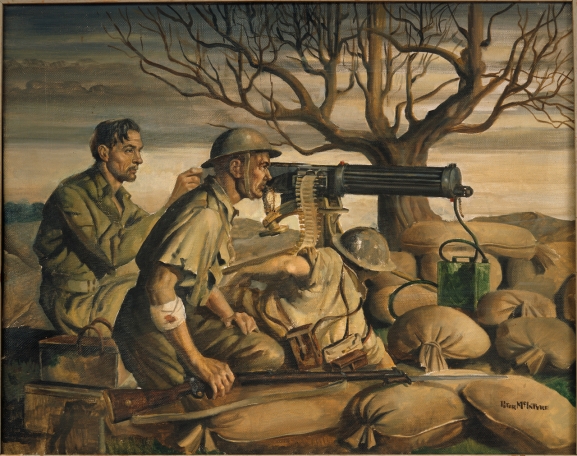 1941: The battle for mainland Greece and Crete, through the paintings of Peter McIntyre from New Zealand
WW2, WW2 in Greece
By Pierre Kosmidis
Images ©
Archives New Zealand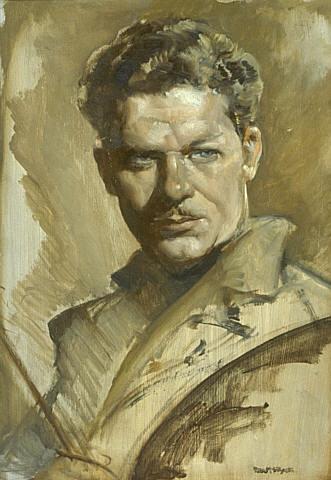 Peter McIntyre was born in Dunedin on 4 July 1910, the son of Peter McIntyre and his wife, Isabella Edith Cubitt. Peter McIntyre was educated at Otago Boys' High School, and also received art lessons from the Dunedin artist Alfred O'Keefe.
He attended the University of Otago in 1930, studying for a BA with the intention of becoming a journalist. German artist Hans Liska offered his artistic point of view from McIntyre's adversaries' side.
However in 1931 he left his studies to travel to England, where from 1931 he studied at the Slade School of Fine Art, London. McIntyre graduated in 1934 with prizes in composition and figure drawing.
From 1935 until 1939 he worked as a free-lance commercial artist in Britain, while also exhibiting contemporary art works, influenced by the English avant-garde and French cubism.
Following the outbreak of the Second World War in 1939, McIntyre enlisted with the 34th Anti-tank Battery, a New Zealand unit formed in London, and was sent as a gunner to Egypt. In Egypt he provided illustrations for the war magazine Parade as well as doing advertisements he sketched members of the Second New Zealand Expeditionary Force (2NZEF).
In January 1941, McIntyre was appointed New Zealand's official war artist and promoted to the rank of captain by Major General Bernard Freyberg. His work in this role covered the campaigns in Greece, Crete, the Western Desert, Tripolitani, Tunisia and Italy. He was promoted to the rank of Major at Cassino in Italy.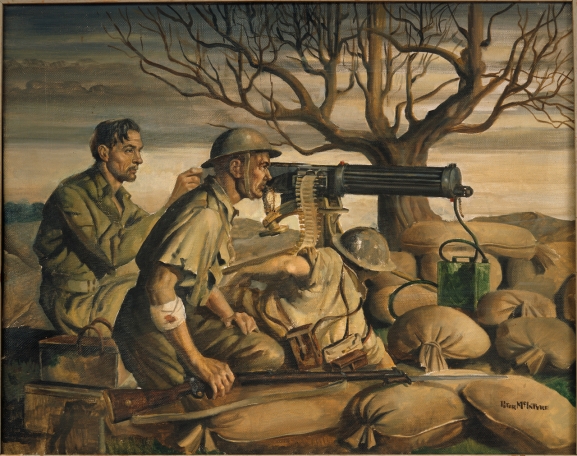 Exhibitions of McIntyre's artworks toured New Zealand both during and after the Second World War. Immediately following the war he worked as an artist in Dunedin, producing portraits and landscapes. In the decades following the war McIntyre won a number of art awards, and published eight books. He was awarded an OBE in 1970, and died in Wellington on 11 September 1995.