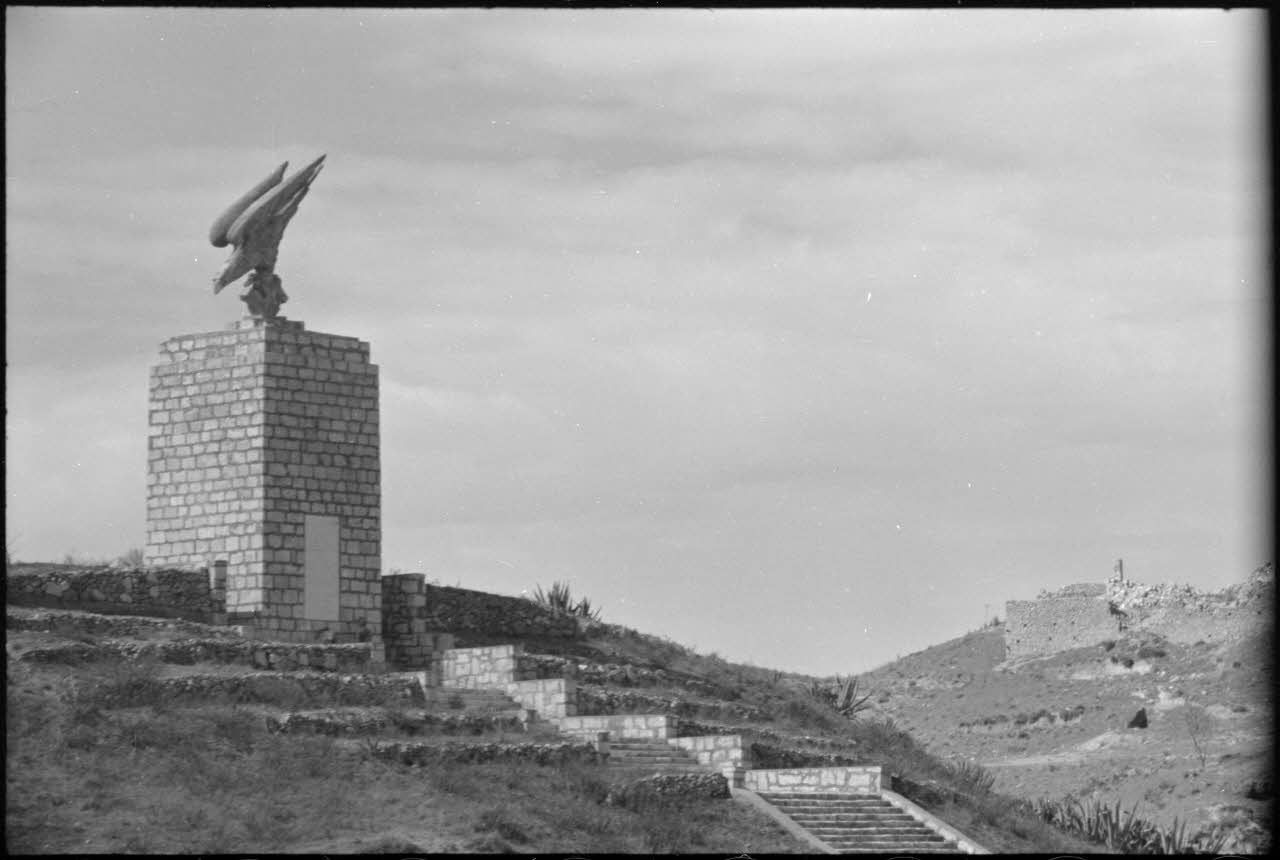 Then and Now: The Fallschirmjäger memorial in Crete, 1941-2022
Then and Now, WW2, WW2 in Greece
The Fallschirmjäger memorial (German: Fallschirmjäger-Denkmal) is a German war memorial for German parachutists who fell during the ten-day Battle of Crete in World War II.
The memorial, known to Cretans as the German bird or the Evil bird, was erected in 1941 by the occupation forces and is located about 3 kilometers west of Chania on the road to Agii Apostoli.
The invasion of Crete in May 1941 was the first major airborne assault in history. Despite their victory, the elite German paratroopers suffered such heavy losses that Adolf Hitler forbade further airborne operations of such large scale for the rest of the war.
The memorial was erected at the end of a stone staircase leading to the top of a small hill. It consisted of a tall pedestal built from stone blocks, atop which stood a concrete diving eagle gripping a swastika in its talons.
The eagle's posture was that of the paratrooper insignia. The latter was a badge awarded to soldiers of the Luftwaffe after completion of parachute training and the required number of jumps.
Originally in the countryside, Germaniko pouli is today encompassed by dense urban buildings and has lent its name to the surrounding area.
Apart from the swastika which was covered with cement soon after the liberation of Crete, the memorial stood more or less intact until the early 2000s.
On November 28, 2000, a storm demolished most of the eagle's body. Just two days later the local authorities decided to move the parts in a construction materials site.
Today, the pedestal and its inscription are in a derelict state and mostly covered with graffiti. There have been some discussions and controversy whether it should be restored or demolished.
The Paratrooper-Cenotaph was built near the former capital Chania after the victorious end of the internecine battle during May 20 to 28 in 1941. It is dedicated to the dead soldiers of the II. Batalion of the "Sturmregiment".
The commander of this Batalion, Maj. Stenzler, formed the inscription of the cenotaph:
1. Batalion "Sturmregiment"
In the battle of Crete May 20 – 28 in 1941,
To you belongs our gratitude, the dead soldiers
Who far from home
In faith to your oath of allegiance
Gave your lives
To our great Germany