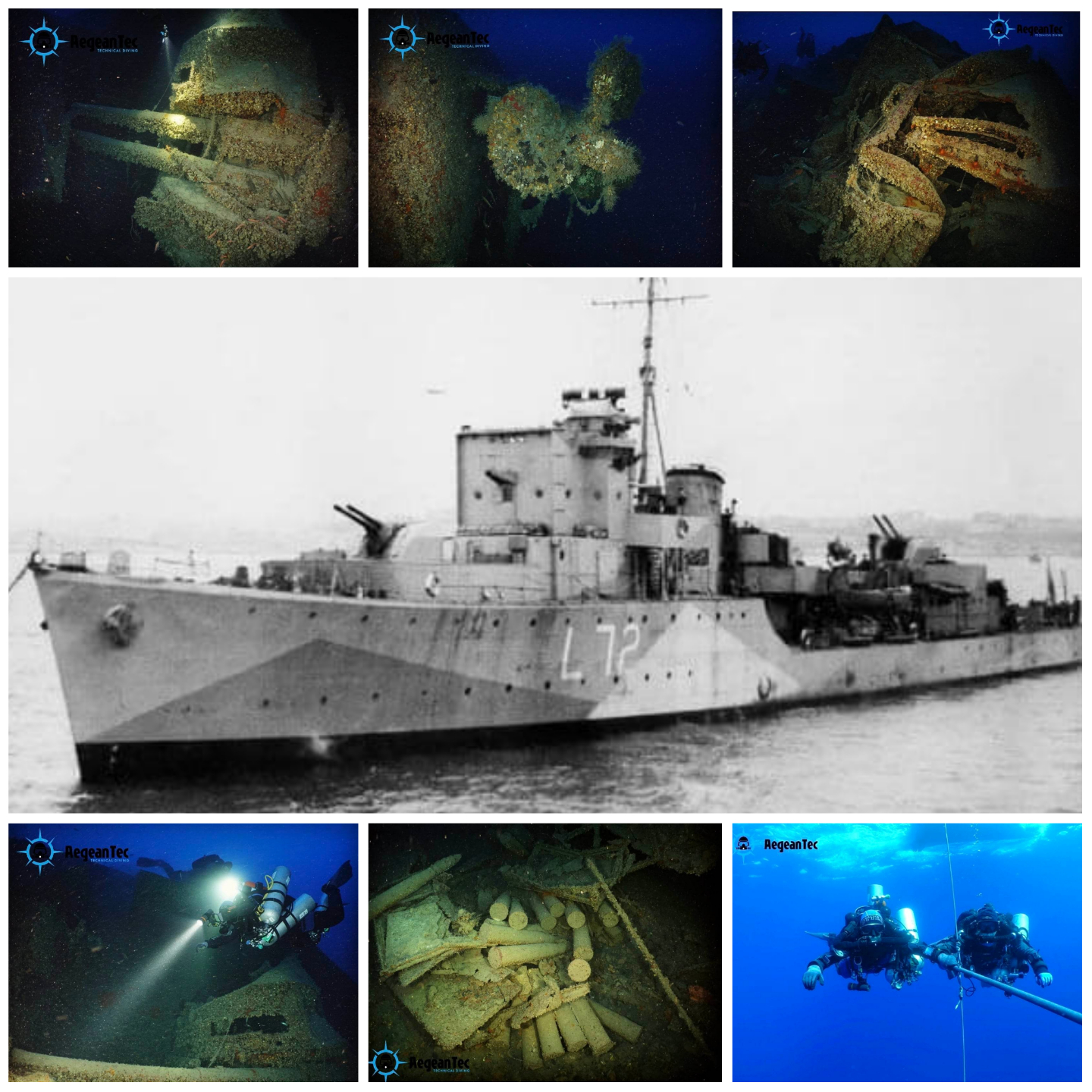 The wreck of the Polish Destroyer ORP Kujawiak – The history of a heroic ship sunk in 1942
Shipwrecks, WW2, WW2 Wrecks
ORP Kujawiak was originally a British Hunt-class Type II destroyer built as HMS Oakley.
She  had a length of 85m and was weighing more than 1,000 tonnes.
She was handed over by the Royal navy to the Polish Navy in 1941 when she was renamed ORP Kujawiak.
In 1942 she was sent to the Mediterranean Sea to escort a series of tankers and freighters against  Axis aircrafts.
During one of her missions, she struck a mine off the coast of Valletta just moments before reaching her destination resulting in the loss of life of 13 Polish sailors and officers.
The Polish Shipwreck Expedition Association with the support of the University of Malta and Prof. T. Gambin's team located the wreck in September 2014 lying at a depth of 97m on her port side.
It was a long-term personal goal to dive this wreck and the Deep Wreck Malta trip that was organized by Aegeantec and Techwise Malta in October 2022 was the perfect opportunity to include the Polish Destroyer in the list of wrecks to visit despite the sad loss of our fellow diver and friend Exe in the summer of 2022, who was involved in the plans for this trip.
Since ORP Kujawiak is a Maritime Military Grave the Heritage Malta, the Maltese national agency for museums, conservation practice and cultural heritage, was informed by Techwise and after their authorization a mixed team with Alan Whitehead and Marinos Giourgas on JJ-CCR's and Vasilis Spyropoulos on open circuit, dived the vessel on the 28th of October 2022.
The date chosen to dive this wreck is a symbolic one as on this date Greece celebrates the remembrance of the moment when the then prime minister of Greece, Ioannis Metaxas, refused to let the Italian troops enter Greece's border on October 28, 1940, which resulted in the Greco-Italian War.
The shot line used for the dive by our Captain Steven Scerri landed near the stern section of the wreck and the team spent 20 minutes exploring this part of the vessel. The structure of the destroyer is intact and in good shape despite being underwater for 80 years.
The propellers and her armament were an ideal reminder of what she was capable of during the years of her service before heading down deep to the seabed of the Mediterranean along with the brave Polish sailors.  Ammunition and equipment are scattered around the seafloor next to the vessel as seen in the photos and the short video at a depth of 97m.
A big number of wrecks were visited during Deep Wreck Malta trip last year with a nice group of divers and friends. However, the dive to ORP Kujawiak was an epic one not only because of the condition of the ship and its unique history but also because it has been a long term personal project that was fulfilled after all these years of diving in Malta.
CHECK THESE LINKS FOR MORE INFO: