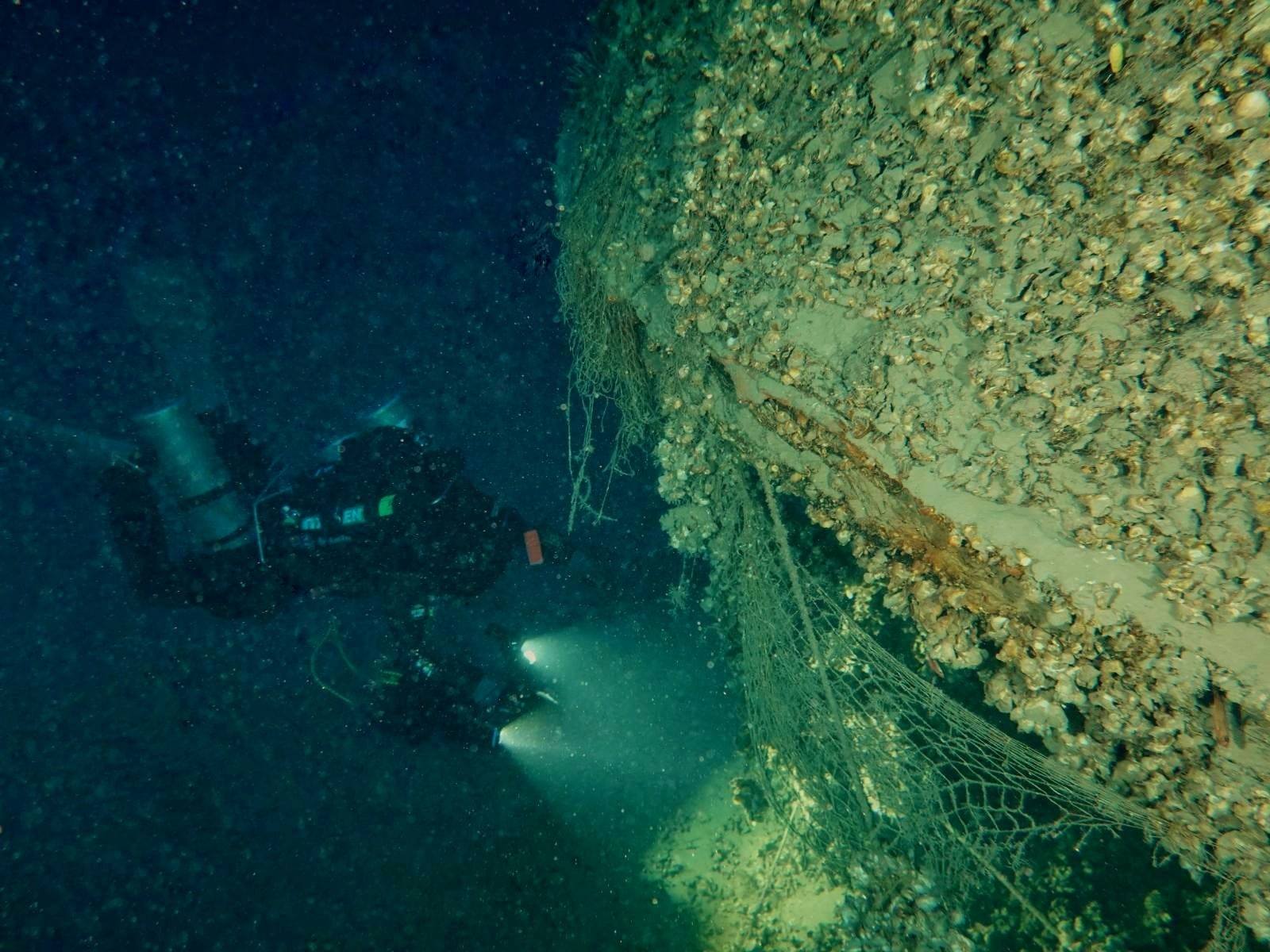 "Moudros": A WW2 wreck at a depth of 100 metres in the Saronic Gulf
Contact, Interviews, Photo gallery, Shipwrecks, WW2, WW2 in Greece, WW2 Wrecks
By Pierre Kosmidis
Photos and video: © 

Marinos

Giourgas

, published under license
Aegeantec on Instagram: https://www.instagram.com/aegeantec/?hl=en  
Marinos Aegeantec on facebook: https://www.facebook.com/marinos.aegeantec.9
Mr. Marinos Giourgas is an experienced technical scuba diver and Instructor, credited with the exploration of several WW2 Wrecks in Greece.
Recently, along with a technical scuba diving team, consisting of Vasilis Spyropoulos OC diver, and Tasos Papapanos and Antonis Strouzas as support divers Mr. Giourgas explored a previously discovered and identified wreck in the Saronic Gulf, off the shores of Athens.
Here is the account of the exploration of "Moudros" by Mr. Marinos Giourgas:
About a year ago our depth sounder gave us a target in the area of the Saronic Gulf.
We asked for assistance, in order to further examine the target before considering organising a technical dive to it.
Our friend Antonis was keen in helping us and along with his team mate they lowered their ROV in order to further investigate the target.
A wreck was resting deep down in the area of our dive centre at 100m. It looked like a tug boat.
We did a thorough research and we found that the team of Antonis Grafas has identified this wreck and dived it a few years back.
According to him it was the tug ship Moudros.
This vessel had been requisitioned by the German Forces during WW2 and it was under the command of a German crew when it ran aground on the nearby island of Fleves.
We understand from the existing records that there is no specific information as to how this vessel after running aground on Fleves ended up on the sea bed of the Saronic Gulf, at a short distance away from the island.
The decision was made to dive this wreck and examine its condition.
All we had to do was to wait for the right moment. And the moment arrived on a hot day in mid-August when Vasilis asked to dive a deep wreck in the Saronic Gulf. He was ready for the task as he slowly and progressively visited deep wrecks during the last three months with the team of Aegeantec.
On the 17th of August a mixed team with Marinos as CCR diver and Vasilis as OC diver visited the wreck and after spending a few minutes descending towards it, eventually they managed to gaze at it!
She was standing upright in the darkness, at a maximum depth of 101m, forgotten by time and surrounded by a large number of small fish that seemed puzzled and surprised by our presence and the extreme light that we were using in order to navigate ourselves through the darkness and to film our dive.
The vessel is indeed small in size, around 30m, and it has pieces of fishing lines and nets covering various sections of it.
Its structure is intact and it does not appear to be broken.
Parts of the deck are missing or have been eroded away after being underwater for almost 70 years.
Of course, it is all covered with marine life, mainly soft corals and barnacles and under our camera lights it looked like an underwater garden waiting to be rediscovered.
A problem with one of our cameras hindered recording longer but we still managed to produce a short video about this dive. Of course, deep in the Saronic Gulf the poor light conditions and average visibility did not help us either.
All this wouldn't have been possible without the support of Athens Divers Club and Petros Delagrammatikas and the assistance from our divers Tasos and Antonis who were eager to unload the extra pieces of equipment required for this dive (deep bail out cylinders, cameras, dpvs etc.) and spent some time with us during our decompression. Of course, our captain Spyros Chrisanthopoulos and surface support who was there to help loading and unloading the boat, setting the shot line and guarding our… water melon played a key role in finishing this dive in safety. Special thanks to Nikos Karatzas and Areti Kominou for helping with the photo editing.