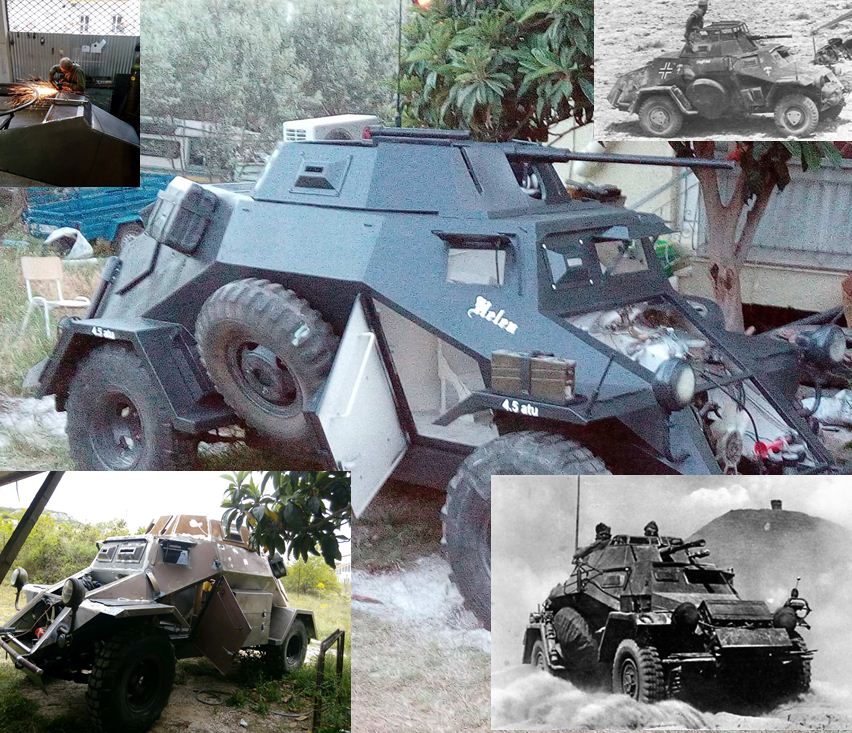 WW2 vehicles: A German SdKfz 222 built from scratch
Interviews, WW2, WW2 in Greece
By Pierre Kosmidis
Photos by Zacharias Ourgantzidis
The SdKfz 222  (Leichter Panzerspähwagen) was four-wheel drive light armoured reconnaissance vehicle, mainly used by the reconnaissance battalions (Aufklärungs-Abteilung) of the German Panzer divisions during WW2 and saw action in almost all theatres of operations, in Western and Eastern Europe and North Africa.
Less than a handful SdKfz 222's survive to this day in museums or private collections, out of the approximately 1,800 variants produced during WW2.
Zacharias Ourgantzidis from Thessaloniki, Greece, decided to create a replica of a SdKfz 222, based on the design of the iconic WW2 vehicle.
"My vehicle is a replica and I built it step by step, based on all available documentation" Mr. Ourgantzidis tells www.ww2wrecks.com
"I already own 2 willys jeeps, 3 motorcycles, a BSA, a BMW and a Mustang, as well as a variety of other period vehicles and I wanted to add an armoured vehicle in my collection" Mr. Ourgantzidis adds.
"I researched for almost a year and the actual implementation of the plan, from the drawing board to reality lasted 19 months, at a cost of approximately 10,000 euro" Mr. Ourgantzidis explains.
The chassis is based on a modified ISUZU Trooper, the engine is 2600cc and all other parts are custom made, based on the specifications and measurements of the original vehicle.
There are several original parts too, mostly coming from Russia and Germany, such as the lights, the gun muzzle and other elements which add a period touch to the vehicle.
"I painted the SdKfz 222 with RAL7021, as this was the colour used by the Wehrmacht during Operation Marita, the campaign to conquer Greece in 1941 and my vehicle is participating in reenactment events, parades and WW2 shows."
The SdKfz 222 was typically armed with a 2 cm KwK 30 L/55 autocannon and a 7.92 mm MG 13 machine gun. The crew was three persons, a commander, a driver and  a gunner. In 1938, the MG 13 was replaced by a Maschinengewehr 34, in 1942 the KwK 30 was replaced by the faster firing KwK 38 of the same calibre.
See below the photo documentation of the painstaking step by step 19-month production of this replica by Mr. Zacharias Ourgantzidis: