HMS Ben-My-Chree: The "Woman of My Heart", the first seaplane carrier sunk in 1917
Shipwrecks, WW2 in Greece
By Pierre Kosmidis
A virtually unknown story, of great historical significance, comes to light once again 99 years after it happened, thanks to the efforts of experienced scuba diver, Trimix instructor and explorer Mr. Asim Karsçakar from Turkey.
Mr. Karsçakar conducted a series of dives in the area with fellow scuba divers Mr. Aziz Yiğitler and Mr. Selim Pala.
"It is the first aircraft carrier ever to be sunk due to enemy action and her story is very interesting" says Mr. Karsçakar and adds: "The Turkish coastal artillery commander Mustafa Ertuğrul Aker who is credited with her sinking is considered a national hero in Turkey and during WW1 he succeeded in sinking several ships". 
HMS Ben-My-Chree (meaning "the woman of my heart" in the Gaelic dialect) is the first seaplane carrier to be sunk in the world, on 11 January 1917 at the port of the Greek island of Kastellorizo by Turkish coastal artillery commanded by lieutenant Mustafa Ertuğrul Aker, an ingenious officer who is credited with several successes that have made him a hero of his native country.
She was originally built in 1907 by Vickers for the Isle of Man Steam Packet Company and was intended for use on the England–Isle of Man route. She was the third vessel to bear her name. To this day Ben-my-Chree holds the crossing speed record from Liverpool to Douglas for a steamship at under three hours.
She was chartered by the RN at the beginning of 1915 and participated in several abortive attacks on Germany in May. The ship was transferred to the Dardanelles in June to support the Gallipoli Campaign.
One of her aircraft made the first ship-launched aerial torpedo attack on a ship in August. After Gallipoli was evacuated at the end of the year, Ben-my-Chree became flagship of the East Indies and Egypt Seaplane Squadron that operated in the Eastern Mediterranean, performing reconnaissance missions and attacking Turkish facilities and troops.
SS Ben-my-Chree was chartered by the Royal Navy on 1 January 1915 and she began her conversion into a seaplane carrier at the Cammell Laird shipyard in Birkenhead the following day.
Part of her aft superstructure was removed and replaced by a hangar, aft of her rear funnel, that housed four to six seaplanes. The aircraft were lifted in and out of the water by derricks fore and aft.
A dismountable 60-foot-long (18 m) flying-off platform was installed forward of her superstructure; it was equipped with a trolley and rails to allow a seaplane to take off.
 In RN service the ship displaced 3,888 long tons (3,950 t), was 387 feet (118.0 m) long overall, and had a draught of 16 feet (4.9 m).
Ben-my-Chree
'
s turbines generated 14,500 shaft horsepower (10,800 kW) and she was credited with a speed of 24.5 knots (45.4 km/h; 28.2 mph) although that speed was exceeded in service. The ship could carry 502 long tons (510 t) of coal. Her crew consisted of approximately 250 officers and enlisted men.
Her armament consisted of four quick-firing (QF) 12-pounder 18 cwt guns, and two Vickers three-pounder AA guns. Ben-my-Chree carried 130 rounds per 12-pounder and 64 rounds for each three-pounder. In May 1916, one 12-pounder AA gun, a three-pounder, and a 2-pounder pom-pom, each on army carriages, were added.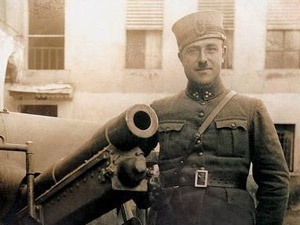 French troops occupied the Greek island of Kastellorizo, off the southwest coast of Turkey, on 20 December 1916 to use it as an advance base against the Turks.
Not pleased at the presence of the French, the Turks secretly deployed an artillery battery of four 155-millimeter (6.1 in) and twelve 77-millimeter (3.0 in) guns within range of the island.
The French commander requested a seaplane carrier to conduct reconnaissance in the area and Ben-my-Chree was sent in response. She arrived on 11 January 1917 and anchored in the harbor of the Greek island of Kastellorizo, which faced the Turkish mainland of Kaş.
The Turkish guns commanded by Mustafa Ertuğrul Aker opened fire about two hours later, hitting the carrier with their third shot. Subsequent shells disabled her steering and started a fire in her hangar that spread across her upper deck.
The crew was ordered to abandon ship after about forty minutes of the bombardment using the only remaining operable motor lifeboat of the three stowed on board. One officer and four enlisted men were injured, but no one was killed. The Turks continued their bombardment for five hours until Ben-my-Chree listed to starboard and sank in shallow water.
Later in the day, the captain and the chief engineer returned to the ship to rescue the ship's mascots, a cat and dog which had both survived the attack.
Ben-my-Chree's wreck remained in place until 1920 when it was refloated by the salvage ship Vallette and towed to the port of Piraeus. The ship proved to be a constructive total loss and was broken up in Venice, Italy in 1923.
During her short career she operated Sopwith Type 860, Schneider, and Baby, as well as Short Type 830 and Type 184 floatplanes.