A detailed look at the Bf109 W.Nr 8668 shot down on 1st April 1942 (photos and videos)
Aircraft wrecks, Photo gallery, WW2, WW2 Wrecks
On 1st April 1942 between 17:10 & 18:58, Unteroffizier Hans Pilz of 5./JG 3 was shot down by antiaircraft fire in his Messerschmitt Bf 109F-4/Trop "Black 11" (Wr.Nr. 8668) off Luqa road, environs of Paola in Malta.
German records note that Unteroffizier Pilz was last heard from when reporting that he was pursuing a British fighter at very low level over Valletta.
Soon afterwards, Pilz crash-landed his fighter in a wheat field close to Rahal Gdid (Paola).
The aircraft came to a stop in an inverted position, and locals rushed to free the trapped pilot.
Somewhat surprisingly, he was offered a tot of whisky, which he declined.
Within minutes, the Air Raid Police arrived, accompanied by a doctor who also offered Pilz a drink.
This time it was accepted.
The prisoner was led away and treated for his injuries and spent the rest of the war as a POW.
81 years later, on the 8th of March 2023, the wreckage of this aircraft were unearthed during construction works near Luqa, Malta, as Clive Grech mentions.
Fast forward 81 years later, to 2023:
On the afternoon of the 25th February the Malta Aviation Museum received a phone call with the news that aircraft wreckage was located during excavation works being carried out at St.Vincent de Paul residence.

Staff from the Malta Aviation Museum gained the necessary permission from the authorities concerned to view the wreckage.
It was immediately evident that the site was a dump containing wreckage from several different types.
Upon gaining further approval from the Superintendence of Cultural Heritage and custodianship of the wreckage, the Malta Aviation Museum team members started to excavate deeper into the crater where parts were found.
The unexpected discovery of a Bf109 horizontal tail section was the beginning of an exciting few days.
Further excavation revealed the wing root of a wing with a W.Nr still clearly visible.
Loose rubble was cleared by hand off the wing surface.
Securely lashed at one of the attaching points, the wing was lifted to ground level from about 2 meters underground.
Once the wing was lifted it was apparent that more of this aircraft was buried.
The fuselage was still there although chopped up in 3 sections.
Obviously this was done for ease of disposing.
It was also evident that certain parts were chopped off and taken as souvenirs during the war.
With paint markings and W.Nr 8668 still very clearly visible, it was no great feat to figure the history of this Erla built Messerschmitt Bf 109F-4/Trop.
www.ww2wrecks.com editor in chief visited the Malta Aviation Museum and with the kind permission of Mr. Ray Polidano, documented the WW2 aircraft wreck, for everyone interested in this historic aircraft, including aviation enthusiasts and scale modellers.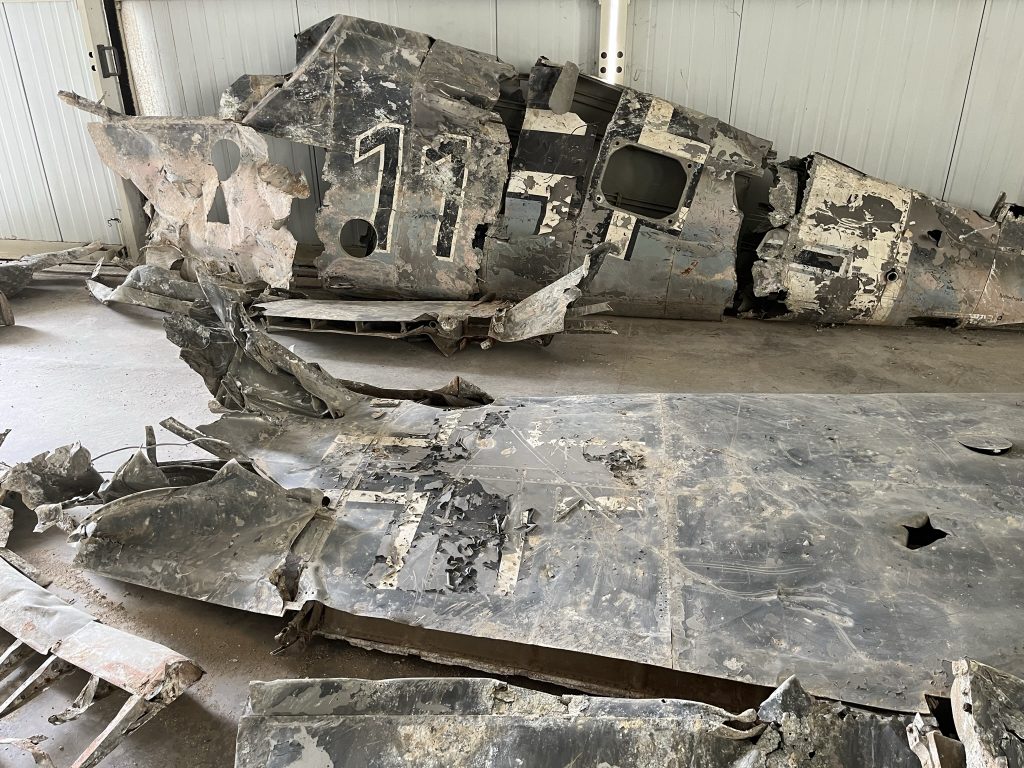 +356 21416095 (Museum)
+356 21419374 (Office)
Address:Ta' Qali, ATD 4000, Malta GC