WW2 Treasure Hunters: TV host and historian Stephen Taylor on battlefield and aviation archaeology
Interviews, WW2, WW2 Wrecks
By Pierre Kosmidis
Photos by Stephen Taylor, used by permission
Stephen Taylor
, 51, based in Leicestershire, England, is a clinical pharmacist and when not at work he spends a lot of time not only researching WW2, but also recovering relics from the conflict.
Stephen Taylor
, along with
Graham McPherson
, also known as 
Suggs
, from his time with 
Madness
, host a TV show on History Channel, called
"WW2 Treasure Hunters"

 and through their research they deliver a message: The most important thing is to never forget. Never forget the sacrifices made during the biggest ever conflict humankind has ever experienced, never forget the horrors of war, never let the memories fade away.
www.ww2wrecks.com
has reached out to
Stephen Taylor
, to find out more on the projects he has been involved with, the importance of safeguarding the tangible remnants of WW2, as well as the stories that these rusted pieces of metal tell us, almost 8 decades since they got lost, be it an aircraft that crashed, or a simple condom tin, thrown away in a pit back in the day.
How did it all start for you, the interest in WW2 and what has been your inspiration?
My interest in World War Two grew, like many a young lad in the 1970s, from building plastic model kits. My favourite were always the aircraft of World War Two, both Allied and Axis, and the ceiling of my bedroom was full of them. They hung on cotton threads in perpetual mock dogfights with their adversaries.
When I was nine years old, my father bought me my first book about World War Two, and so began a far deeper interest in the conflict. I would scour charity shops and library sales, looking for anything relating to World War Two. I read them all, cover to cover, digesting the details of every battle, every decision, every mistake made during the conflict.
Collecting books and learning about the war is a passion that has yet to diminish, and those original books have now been joined by hundreds more over the years. However, it was a trip to Normandy in the early 1990s that proved to be a real turning point in my understanding and knowledge of the war, and began my deep desire to recover relics from the conflict.
I was on a camping holiday with my first wife and children, dragging them around every museum and World War Two site I could find. On the last day I gave them all a break, and just stayed in the local area; the beach at St Aubin sur Mer.
There was quite a breeze blowing and the waves were crashing onto the beach, with my son and I sat on the sea wall, watching the waves. We had been there for a short while when he suddenly jumped up and ran to the edge of the surf, picking something up out of the sand. He ran back to me, his fist firmly clenched, and a big grin on his face. Slowly uncurling his fist he held up a brass cartridge case.
I took it from him and looked at it, not knowing how to identify it or even what calibre it was. Given where we were I was certain it had been involved in the war and I could even pinpoint the battle it was fired in. It was then I realised the last person to touch this cartridge case was someone who had actually been involved in the war. It had its own history.
That was it. The moment I realised how important that object was as a historical artefact, and indeed every item from World War Two that was still out there, waiting to be found.
A few weeks later I was the proud owner of a basic metal detector and began my hunt for relics from the conflict. The next few years were spent recovering very few wartime relics, my main finds being beer cans, ring pulls, condom wrappers and fag packets.
It took me a while, but I eventually understood the value of in depth research and I started to relic large amounts of relics from the conflict. Now, with the right research, identifying a World War Two site is relatively straight forward and I can get out and find the history instead of waiting for it to come to me.
After 20 years of recovering World War Two relics, I have built up a substantial collection, along with a vast knowledge of every bit of kit you could think of. I helped form a group where this knowledge could be shared about recovered items and sites, the World War Two Relic Retrieval & Preservation Group, and with regular group digs we have recovered an incredible amount of relics over the years.
I am now able to share that history and knowledge with the world through my new television series, 'WW2 Treasure Hunters', aired on the History Channel, with Suggs as my co-presenter.
We visit WW2 sites to recover relics and tell the stories of the personnel based there through the relics we find, along with archive footage and interviews with veterans. We have some fantastic field archaeologists on hand to help us record and catalogue finds, along with members of the WW2 RRPG to help with the digs.
You recently presented via WW2 Treasure Hunters the story of a Boulton Paul Defiant. Tell us a bit more on this, the human stories behind it and what were your feelings when you found out the details?
The recovery of the Boulton Paul Defiant in Season 2 was a change to our previous digs in that we concentrated on specific sites, rather than one specific item.
We decided to show the valuable work that some of the aircraft recovery teams do around the world, recovering aircraft lost during the conflict.
The Boulton Paul Defiant was an aircraft that, during the day, could not match those sent against it, but in the dark of night, came into its own. It showed itself to be a fantastic night fighter and we decided to tell the story of the aircraft and the men that flew in them. Indeed, the story of the two men who flew the aircraft being recovered, Sandy Ballantine and Chris McTaggart.
We learned out the plan to recover the aircraft from one of the group leaders, Gareth Jones. We soon realised that this was a great story as, not only did both men survive the crash, but we also had access to all the records of the incident and numerous other historical documents.
Many of these came from the daughter of the pilot, Christine Ballantine, who was planning to fly over from her home in Canada to witness the recovery.
How relevant are the lessons of WW2 today? Do you see any similarities and what your key message be?
The challenge for the world today, is how we ensure another conflict on the scale of WW2 doesn't occur. The main part of this challenge is simply that memories are fading.
Facts about the conflict are all well and good, but the first hand stories from the people involved will be lost in the next 10 to 15 years, as the last veteran passes away. We are then left with only written records. Without these first hand accounts, and the obvious horror seen in the faces of the people recounting the stories, who were actually there, the written records become mere facts, with no emotional element.
Even now I see the younger generation expressing views that glorify war. Many young people see it as an honourable and heroic thing to be part of, as well as something that is almost 'a good thing'.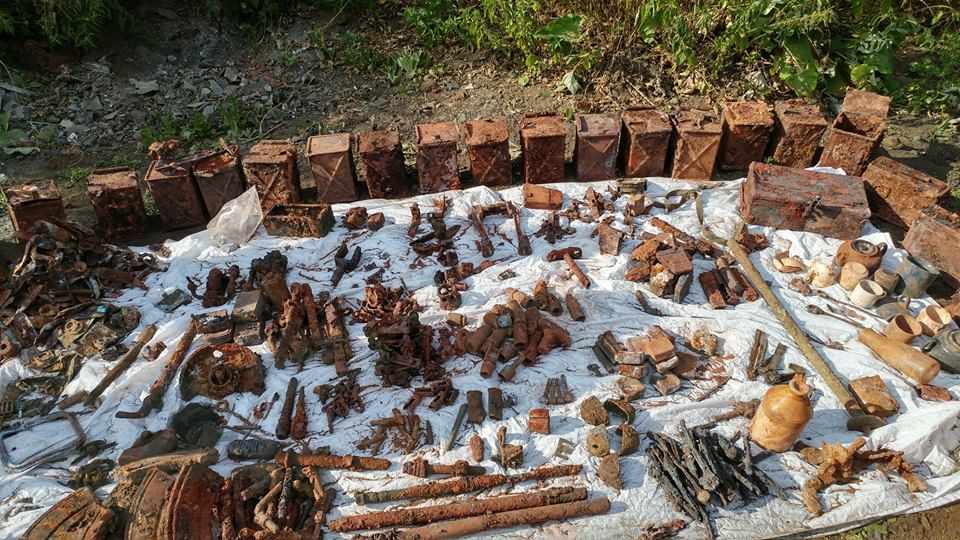 This is down to the fading of memories, and the subsequent downplaying of the true horrors of war. This is why it is so important to keep telling the kinds of stories we do in WW2 Treasure Hunters, to keep the memory alive. Without that memory, the risk of a future global conflict will increase.
The key message we try to get across is that war is horrific. Death and destruction is not just limited to a narrow strip of land, it is all encompassing, reaching even the most remote of regions.
War isn't about a few battles where soldiers die painlessly and quickly, fighting over a patch of land well away from where you live. It's about the suffering of entire populations, and horrific deaths of people all over the land. Deaths that involve incredible pain and suffering.
When doing talks at schools and other meetings, I almost always quote the following from William Tecumseh Sherman, Commanding General of the U.S. Army from 1869 to 1883, given to a graduating class of the Michigan Military Academy (19th June 1879);
'I've been where you are now and I know just how you feel. It's entirely natural that there should beat in the breast of every one of you a hope and desire that some day you can use the skill you have acquired here. Suppress it! You don't know the horrible aspects of war. I've been through two wars and I know. I've seen cities and homes in ashes. I've seen thousands of men lying on the ground, their dead faces looking up at the skies. I tell you, war is Hell!'
Making the connection between a WW2 object and the human story behind it, is quite fascinating. War is not just about numbers and inanimate objects, but mostly about the human stories behind them. What is the most striking personal story you managed to decipher?
I think the most striking personal story we have managed to decipher is that of Gilbert Dawe. During filming for season one of WW2 Treasure Hunters, we recovered a spoon from RAF Duxford, on which was stamped a service number. This turned out to belong to a man who had been lost to history.
A test pilot qualified to fly virtually every combat aircraft type flown by the RAF during WW2, yet he was totally unheard of. He had been awarded the Air Force Cross (for gallantry, but not in the face of the enemy), and had been responsible for the testing and delivery of thousands of front line combat aircraft to numerous airbases across the UK.
Not only that, he flew in aircraft that had been badly damaged and then repaired, (a terribly dangerous job!), to ensure they were fit to be passed back in to active service. It was a great honour and privilege to take this spoon back to his two sons, and let them have a little piece of history relating to their father's heroic, but forgotten, deeds during WW2.
Even today, WW2 can be seen on different locations, be it a bullet-ridden building, a flea market with WW2 items on sale, a battlefield archaeology project. Which is the best way to remember and pay respect to the countless souls lost during WW2?
The best way to remember and respect the people who fought and died in the conflict is to keep their memory alive. We should strive to ensure that history is not only never lost, but is never mistold or facts changed to suit the current world climate.
Which is the most important project you have undertaken and why? What are your next plans?
The most important project we have undertaken was the story of the Fairey Battle. This aircraft crashed in June 1940 near to the village of Gasny in France. Yet the story of how it crashed, with the loss of two young airmen, Peter Bligh and Cecil Thomas, had never been told. Not only that, but the reason these two young airmen lost their lives had never been determined.
Cecil Thomas's mother died shortly after the war ended, never having known what had happened to her cherished son. It was up to us to work out what had happened and why. After extensive research it became apparent that they had lost their lives due to a case of 'friendly fire', having been shot down by a French aircraft flown by a Polish pilot.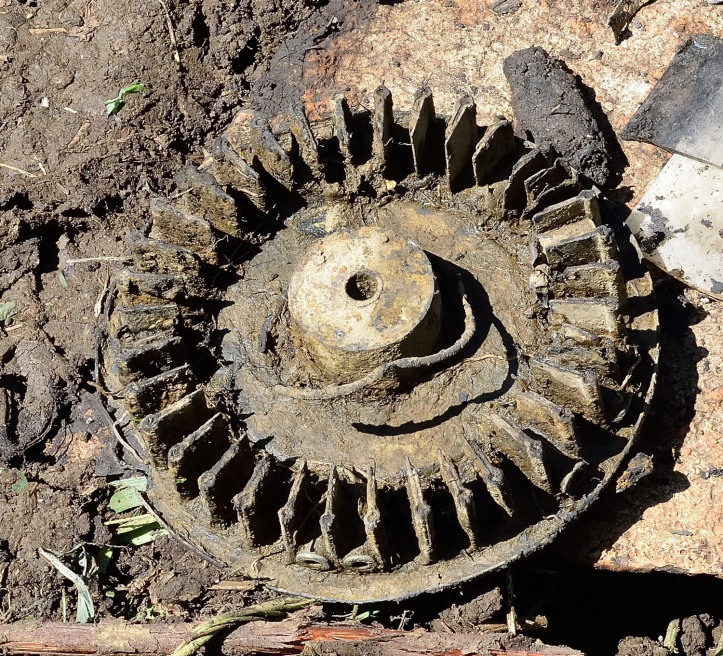 Whilst the recovery work came to show that the aircraft had been recovered many years before, one item that had been left behind, a partly used Vickers K magazine, showed that the Battle had opened fire on the French aircraft.
This resulted in a return of fire that brought about the demise of the two crew. An incredible story but one that took quite some time to work out. But without that one magazine, it would have been impossible to solve. This just shows the value of ground dug relics, and the important place they hold in history.
We have more than 54 stories already planned for a future possible series, but it all depends on the performance of the show on screen! As is so often the case in TV world, you can have a brilliant show that is acclaimed by all the critics, yet without the viewing figures it will never be re-commissioned. We have to wait and see!
Tell us about the  WW2 Treasure Hunters projects, the importance of a respectful and scientific approach to battlefield archaeology and the proper treatment of remains, if found.
The projects we film aim to show the public the untold stories of WW2. But this isn't just about pitching up at a site and recovering relics. This is about ensuring that every single relic is documented, with reports produced showing the precise location of each and every find, along with a detailed description.
This adds to the historical record and is a valuable source of information for the archaeological community and general public alike. During filming for
WW2 Treasure Hunters
we have
archaeologists
with us to not only advise on recovery methods, but to also document every single relic, and to produce a report at the end of each dig.
On a number of occasions, the work we have done during filming has added extra information to the historical record, enhancing our understanding of land usage during WW2, and who was using that land.
All too often, historically important artefacts are recovered from the ground, and are then subsequently sold to the highest bidder by the finder. In over 20 years of recovering WW2 relics, I have not sold one single item.
Many people find this strange, but for me, each and every relic is a piece of history. You cannot buy that history, and it is of much greater importance than any money I could get for them. I know where every single item has been recovered, who used it and when. And that's what it is all about for me; the significance of each and every item.
I display at military shows, schools and historical societies, taking along relics that have been recovered to educate people about what happened in the UK during WW2. I also give talks about the subject, using relics recovered to fill in the missing history of WW2 sites.
As I limit my recovery work to the UK, the chances of finding any human remains are almost non-existent. The important thing during our work is the correct recording of finds made, and the production of archaeological reports.
Through your work you help raise awareness and deliver some positive messages. Which one would be the thing to remember when you finish one project?
The most important thing to remember when finishing a project is the telling of an accurate story about the site visited. The idea for
WW2 Treasure Hunters
was mine, and the most important stipulation I made to the producers was to be factually correct.
I have spent many hours watching other WW2 documentaries, shouting at the TV when errors are made! I don't ever want one of my shows to be shouted at by someone like me.
I try to ensure that everything we show is factually correct so that people can gain a level of trust in the program, so they can be sure that the story we've told is accurate and correct.