The Topography of Terror: Documenting the German crimes against humanity and the Soviet War Memorial
WW2
By Pierre Kosmidis
© 2020 Nassos Triantafyllou. All rights reserved 
More than 1.3 million people visited the "Topography of Terror" in 2018, learning about the crimes against Humanity the Germans committed and making the documentation center one of the most frequently visited places of remembrance in Berlin.
During the "Third Reich" the headquarters of the Secret State Police, the SS and the Reich Security Main Office were located at the site, which were largely destroyed by Allied bombing raids during WW2 and subsequently razed to the ground in the postwar era.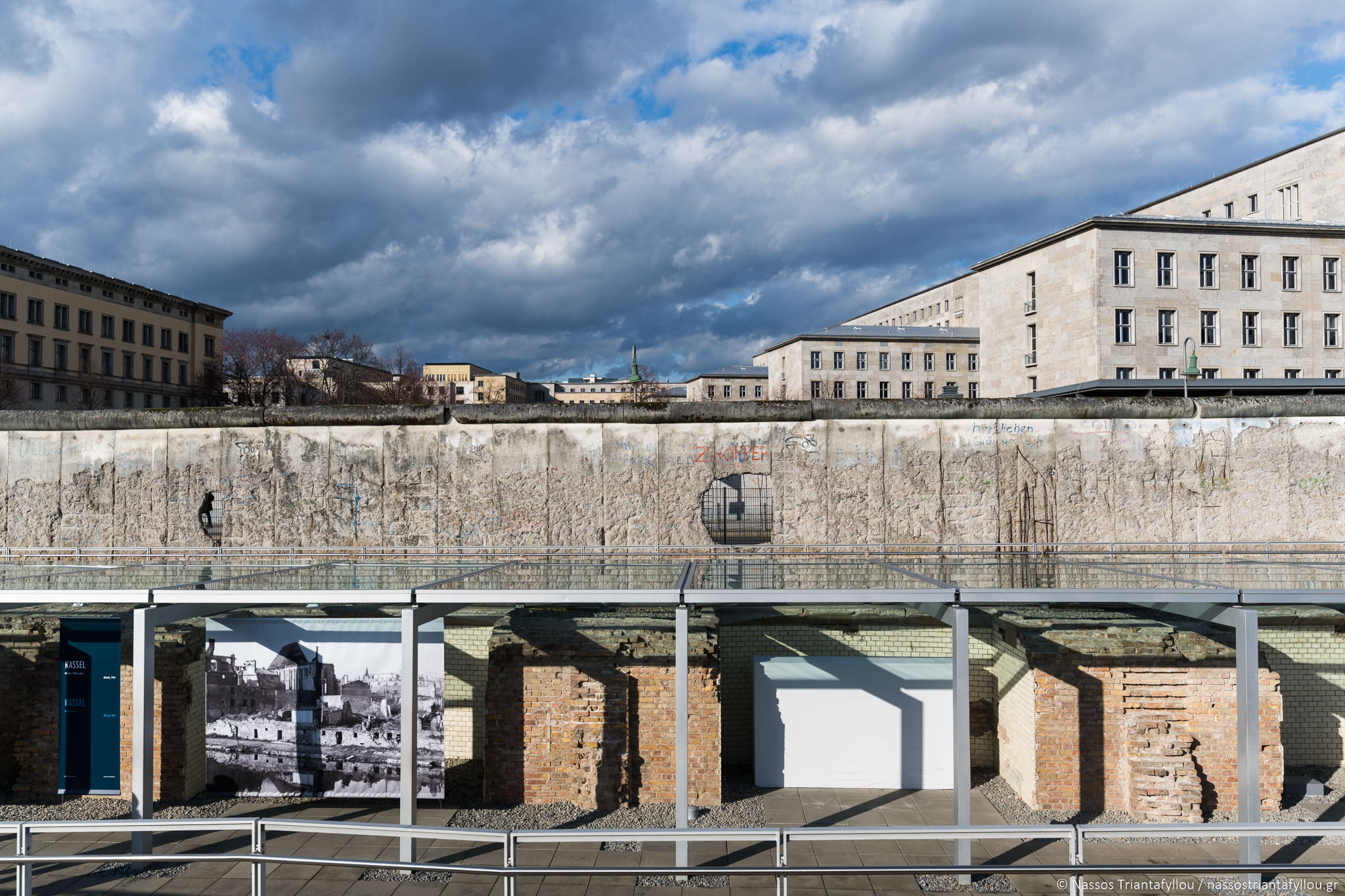 Acclaimed photographer Nassos Triantafyllou visited the Museum and documented many of its exhibits, sharing them with www.ww2wrecks.com
Mr. Triantafyllou also documented through his lens the soviet war memorial at Tiergarten in Berlin, commemorating the 80,000 soldiers of the Red Army who died during the Battle of Berlin in April and May 1945.
This memorial was erected in 1945, within a few months of the capture of the city. Early photographs show the memorial standing in a wilderness of ruins, the Tiergarten having been destroyed by incendiary bombs and then stripped of timber for firewood during the last months of the war.
Today, it is surrounded by the extensive woodlands of the reconstituted Tiergarten. Although the memorial stood in the British sector of Berlin, its construction was supported by all the Allied powers. Throughout the Cold War, Soviet honor guards from the Soviet sector (East Berlin) were sent to stand watch at the memorial.
The memorial was built from stonework taken from the destroyed Reich Chancellery.
Built in a style similar to other Soviet World War II monuments that were once found all over the former Eastern bloc, the memorial takes the form of a curved portico, topped by a large statue of a Soviet soldier.
It is set in landscaped gardens and flanked by two Red Army ML-20 152mm gun-howitzer artillery pieces and two T-34 tanks. Behind the memorial is an outdoor museum showing photographs of the memorial's construction and giving a guide to other memorials in the Berlin area.
There is a sign next to the monument explaining in English, German and Russian that this is the burial site of some 2,000 fallen Soviet soldiers.
It is located in the heart of Berlin along one of the major roads with a clear sight of the Reichstag and the Brandenburg Gate, both symbols of the city.
Some of the marble used to build it came from the destroyed government buildings nearby, and it is built on a place which Adolf Hitler meant to devote to Welthauptstadt Germania.
Besides the main inscription, the columns state names of only some dead Heroes of the Soviet Union buried here.