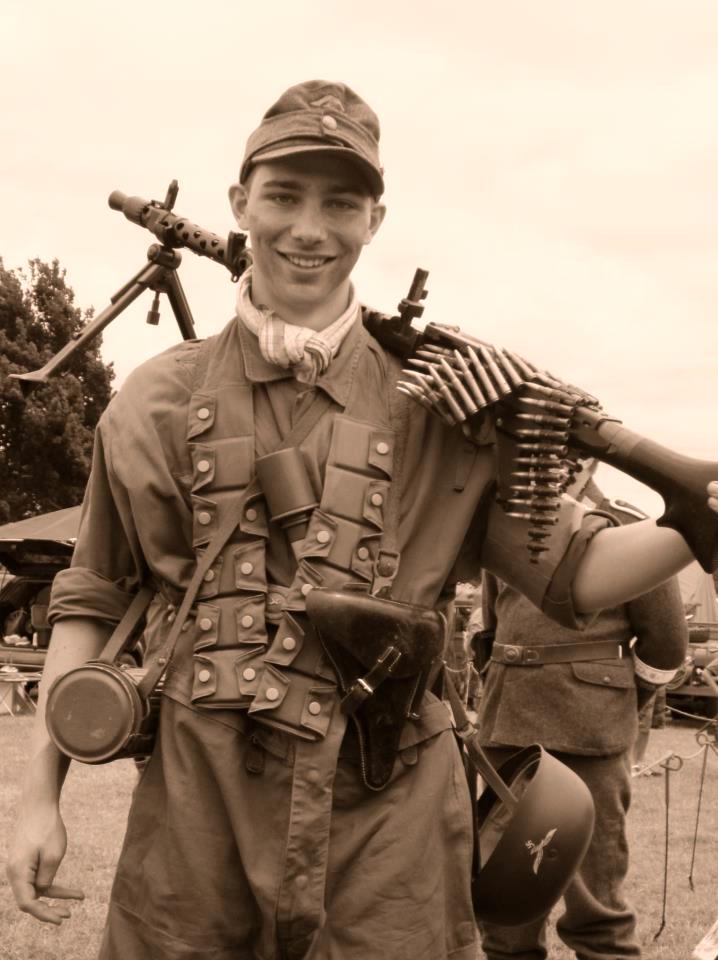 Historical Re-enactment Society: Reliving the Battle of Crete in New Zealand
Interviews, WW2, WW2 in Greece
By Pierre Kosmidis
A group of reenactors from New Zealand, named World War Two Historical Re-enactment Society, are bringing History back to life. 
With attention to detail, the re-enactors are reliving important elements of the military traditions of new Zealand during WW2, with a special focus on the Battle in mainland Greece and on the island of Crete (April-May 1941).
With no political affiliation, or glorification of criminal organisations, the "Kiwis" as New Zealanders are universally known, are helping the young generations to familiarise with history, as it happened on the battlefields 75 years ago.
Mr. David Gunson, Kiwi section commander 21Btn (re-enacted), shared with ww2wrecks.com his thoughts on re-enacting and offers a glimpse on what it means to relive history:
How did it all start for HRS/NZ? what were your motives and what was your first project?
The society started in an informal way (1994) centered around militaria collectors whom mostly had met at War Souvenirs (a military antique dealers store) after a couple of photo shoots/ exhibits we put on a WW2 battle display for a extravaganza corporate event in which we were paid that brought out serval keen enthusiasts whom formed a solid core for the society to form (1995) as an ongoing group.
Initially we had no units and several members dressed in their original uniforms depending on the troops needed for each particular event.
Eventually as we developed some training at our monthly meetings at a local transport and technology museum we formed into separate representative units.
New Zealand infantry and German mountain infantry, whom had fought one another in Crete and the Italian campaign. (we later added German paratroopers) The society put a fair degree of importance in the presentation of mock battles.
Our main aims were simply to have fun, pay tribute to our own relatives military service and to show the public that NZ had a part in fighting WW2.
The society has been involved in veterans parades, ANZAC services, heritage shows, Museum displays, airshows, films, history festivals, and tacticals.
How easy is it to reenact a specific period of time, with respect to historical accuracy?
It is certainly easier to do research these days, getting original equipment is now simpler to source through online auctions.
The uniform reproductions are more available, and better quality than ever before.
New Zealand had a very active photographic section during the war and a good number of highly detailed images record specific campaigns and the soldiers that fought in them are commonly available in books and archives.
It is harder to find correct terrain and props to reproduce convincing battlefields. The correct military vehicles are always a challenge.
Reenactment: Is is an "expensive" hobby? Is your equipment, battledress etc. period or repro?
In the early years of the society many kiwi uniforms were converted from post war tunics and the re-enactors doing germans converted Swedish tunics.
The majority of reenactors now wear full reproduction uniforms, though some have originals for parades and suchlike. Most of the equipment, helmets and weapons date from the war years.
Original items are now becoming rarer and subsequently expensive, though easier to locate. The New Zealand army stockpiled war items for many years and these are still available on the private market and so it is still affordable to source NZ army equipment.
Living in New Zealand: How easy is it to get hold of the material needed for reenactment? Are you cooperating with other similar teams across the world, if so, where and which ones?
We can get some items via mail order from the UK and USA, being geographically remote it is extremely difficult to attend overseas events on mass but many individuals make a point of visiting foreign battlefields and museums when travelling overseas.
Several re-enactors here have lived overseas, and have been members of re-enactments in the UK or USA in the past. The German FJ unit has contacts with other German paratrooper units overseas.
You chose to reenact both Allied and Axis forces, with a specific link to the Battles of mainland Greece and Crete. Why was that? Do you participate in any reenactments of specific events of the period?
The campaigns in Greece and Crete, were the first in which New Zealanders fought in during WW2.
Both Battles saw New Zealanders give a good account of themselves against overwhelming odds, and often fighting with poor equipment and strategy, yet man for man and in small unit tactics were great fighters. It's the story of the unbowed underdog.
Many New Zealanders wrote and spoke of the hospitality and courage of the Greek and Cretan people.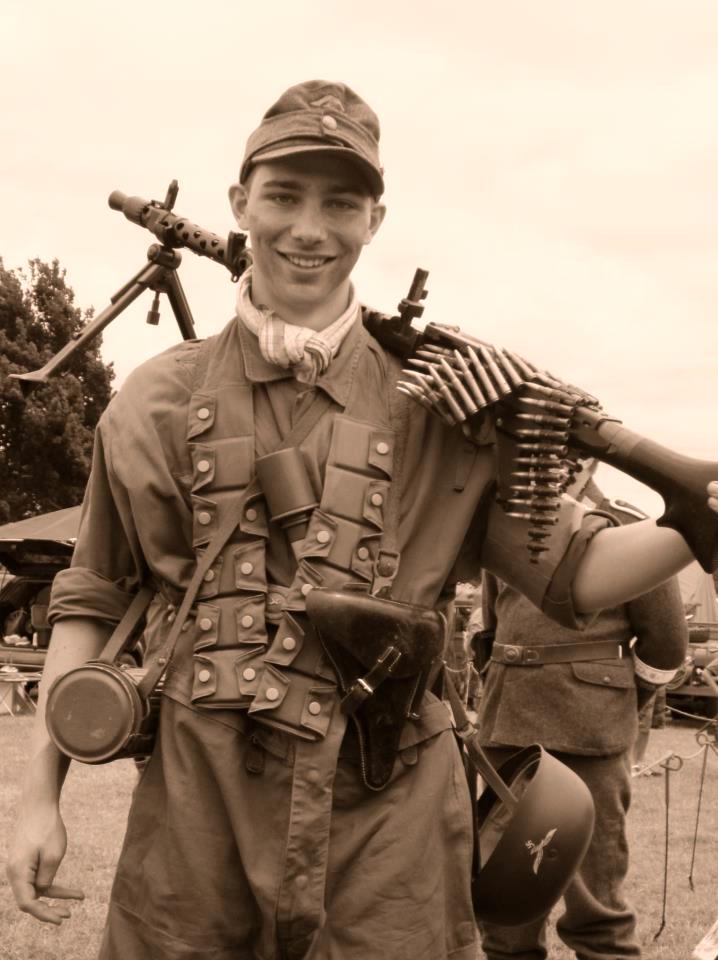 How is the public treating you, especially when you reenact the "enemies"?
Most of the public have appreciated the 'germans' as a natural part being the 'bad guys' of a re-enactment battles.
In the society we are sensitive to avoid any neo Nazi associations and any prospective members are told from the outset that the society is about historical and not a political point of view.
Do you consider that you add to the knowledge of the past with your reenactment? How does the younger generation react and did you have any interaction with WW2 veterans?
Most of the knowledge comes from different exposures to each generation, war comics, model making, war gaming and movies all spark an interest in history, it's a natural part of finding out how soldiers and machines fought in WW2.
Our interactions and visits with veterans give a human side to what the second world war involved.
Few of the younger members have had the chance to speak directly to aged veterans but are encouraged to discover their family history in this regard.
The re-enactors have discovered a lot of the old techniques difficulties and skills during extended 24hr nonstop tactical battles which are unscripted and test teamwork and fire and control in small units to a high degree.
In comparing WW2 equipment with the modern one, do you think that the soldiers of the past were less equipped in basic elements, such as footwear, clothing etc.?
Troops during the war had the military equivalent of what they had in civilian life, the same is true today.
WW2 was a global war and so items were built for mass production from natural materials easily produced then. Quality of food was not too distant from what may have been expected in civilian life at the end of the depression.
In the 1940s a much stronger emphasis was put on repair of items and making do with out easy resupply. The things that have changed the most is transport and communications, the speed and range of both are incredibly powerful today.
How "deep" does your reenactment go, i.e. do you also follow specific rules related to WW2 when reenacting (be it rules, ways to talk, etc.)
The society follows a rank structure within the units and the elected officers are assisted in their leadership roles by promoted NCOs who train and guide the re-enactors.
Authentic drill, tactics, weapons skill, map-reading, first aid etc., It is up to the individual how they approach the hobby, some are very immersive and others are apart from their uniform historically very relaxed, as long as the 'soldiers' act with discipline when in public, carrying arms or in 'battle'.
All of the re-enactors are volunteers and even across the ranks and units comradeship is highly valued.
ANZACs are well respected in Greece to this day, mainly because of the Battle of Crete, but also because of their engagement in northern Greece (Vevi etc.). Did you ever have the opportunity to meet with any WW2 vets who fought in Gtreece? Any specific stories you wish to share?
Unfortunately there are very few veterans left whom fought in the earlier campaigns of Greece and Crete.
The debate of whom was to blame for the defeat continues to rage… brigadier Puttick/ Hargest, general Freyberg, Wavell, British High command, Churchill.
Everyone agrees both battles teetered on a knife edge, and perhaps if things had been just a little different then the outcome may have been huge.
Certainly the greatest lesson is that war is no place to train for war, the untested troops, did well at fighting at platoon, company and battalion level but time and time again senior commanders failed to grasp that to fight blitzkrieg requires equal speed and importantly good communications and support.
In the society we ran a hypothetical exercise using the same units available at Maleme and the result was you can't defend in depth and breadth. It's painfully true on every level of warfare.