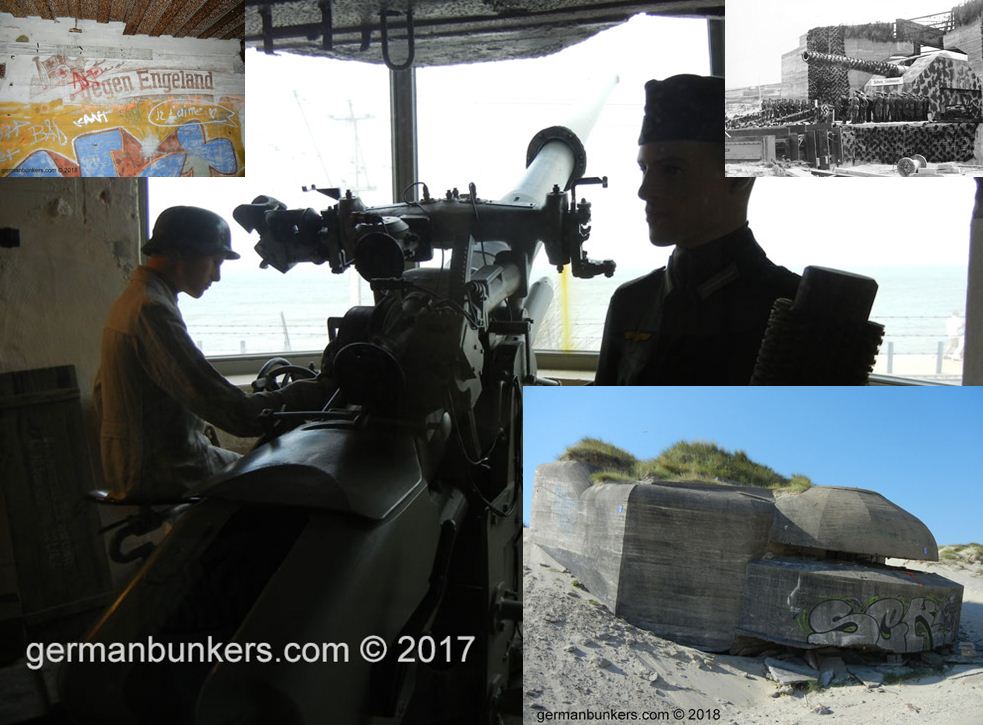 Bunker Archaeology: Inside the WW2 German "Atlantikwall" fortifications
Interviews, WW2, WW2 Wrecks
By Pierre
Kosmidis
Photos © germanbunkers.com 

used by permission, unless stated otherwise
Photo credit: wiki commons
On 23 March 1942 the Nazi leader of Germany Adolf Hitler issued Führer Directive No. 40, which ordered the creation of the "Atlantikwall", a series of fortifications spanning from Norway, along the Belgium and French coastline to the French-Spanish border.
The purpose of the "Atlantic Wall", which covered a distance of 2,700 kilometres, was to strengthen the defensive positions in "Fortress Europe", as mainland Europe was called by the Nazis, from a possible Allied offensive.
Photo credit: wiki commons
The building of the Atlantic Wall started in 1942 and was concluded in 1944. The building project was of epic proportions and most of it was constructed along the French coast where it was assumed by the Nazi leadership that an Allied landing would most likely be made.
The Wall used up over 17 million cubic metres of concrete and 1.2 million tonnes of steel and the cost in France alone was 3.7 billion Deutschmarks.
Had the Nazis paid out a fair wage per worker per day, the cost would have been enormously greater. However, the Germans used slaves who were not paid and other workers who were paid a nominal wage.
Photo credit: wiki commons
The most heavily constructed batteries were around the north and west coasts of France. The 'Batterie Lindemann', the captain of the 'Bismarck', was near Calais. Its main target was to defend against an Allied invasion but its  guns were also used against shipping and Dover. The 'Batterie Lindemann' fired 2,450 shells at targets in the Channel or against Dover or Folkestone – an area known as 'Hell Fire Corner'.
www.ww2wrecks.com has reached out to David Martin, the administrator of www.germanbunkers.com to shed light on this massive construction project, its purpose during WW2 and its story in the following decades, up until today.
Why did you start documenting the Atlantic Wall fortifications?
Well I became fascinated in the architecture and design elements at a very early age. I was visiting Denmark with my family on a summer holiday in the 1970's and I enjoyed exploring the many bunker remains on a beach in a place called Lokken. a seaside town about 55 miles north west of Aalborg.
Photo credit: wiki commons
It is as fascinating now as it was all those years ago. You could probably liken the experience and the life-long interest to those who study the Pyramids and other ancient structures. Military archaeology and the study of concrete fortifications really is no different. People are fascinated in abandoned places especially those that held a military significance and there are those like myself who find the fortifications of the Atlantikwall incredibly interesting.
Photo credit: wiki commons
I grew up in England and was surrounded by tales of the Second World War. My mother, aunt and grandmother all survived the London Blitz, my grandfather was a Lance Bombardier on an anti-aircraft battery in Great Yarmouth shooting down the German Luftwaffe or at least attempted to as they headed towards London and another relative that participated in Operation Market Garden and the liberation of the Belsen Concentration Camp.
These tales at home as well as watching such TV shows as The World at War narrated by Sir Laurence Olivier left an indelible mark as a young boy and only further increased my interest in the WWII and the Atlantikwall as I grew older.
Photo credit: wiki commons
When my family emigrated to the United States later on in life we lived in a University town called Durham in New Hampshire. They had a really great library which was accessible to both the students and the public as well.
I found a book called the Architecture of War by Keith Mallory and Arvid Otter and it detailed the architecture, structural and design formats behind the Maginot Line built by the French as well as the Atlantikwall. This book became my bible on German bunkers and the French ouvrages and so really started a plan I had to visit France and document the remains myself. A book can only offer so much and it was my dream then as is today to visit, photograph and catalogue as many sites as I can.
What is the historic significance of these bunkers, related to today?
Well they are part of history which sadly is being forgotten about by most people.
At the end of World War Two people wanted to forget the war, they wanted to move on and live in peace which of course is what we all want but we must not forget the past and what brought us to war in the first place.
The German bunkers of the Atlantikwall are α reminder of our past and the war that we fought to free Europe of the tyranny of Hitler and the Third Reich, it's not something we want to dust off and forget.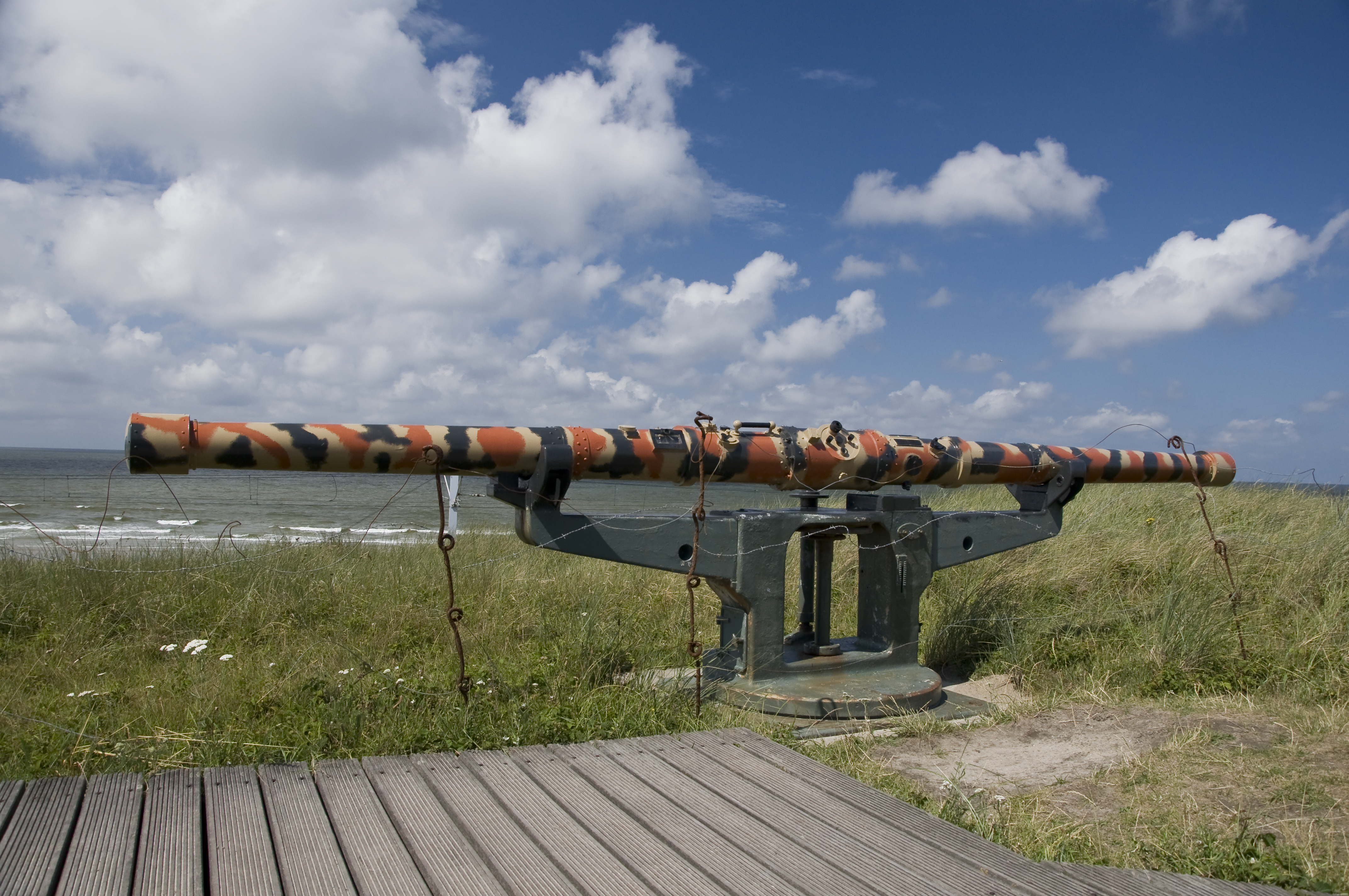 Photo credit: wiki commons
The Atlantikwall remains the most staggering construction project of modern times. Most people don't realize the sheer number of bunkers that were built during such a short period of time but estimates are about 25,000 plus German bunkers were built during WWII stretching from Norway to the southernmost part of France at the Pyrenees.
Photo credit: wiki commons
The French are very good about embracing their past especially World War 1 and World War 2. As my website details there are many wonderful WWII museums from Calais to Normandy and throughout which give a wonderful glimpse at the struggles the French had during their occupation by the Germans from 1940 to 1944.
Photo credit: wiki commons
They have done a superb job in the Normandy region making sure that some of the more important Atlantikwall remains are now kept as museums for the public to visit and learn from.
Which is the most impressive bunker complex you have ever visited and why?
Photo credit: wiki commons
That is very difficult to answer in part because I have only touched upon the remains that are still in existence but to answer your question I would probably say Batterie Todt in Audinghen, Northern France.
It had four enormous gun casemates or Turms as they are called. Turm 1 is now home to a beautiful museum and details the men that were garrisoned there, the workings of the guns and the gun complex and so on. It's a wonderful museum and not to be missed. What I love about this complex is the walk through the woods just west of Turm 1.
Here you will find the remains of Turm 2, Turm 3 which was blown up by accident in the 1950's and the queen herself, Turm 4. That particular casemate is staggering in its size.
Photo credit: wiki commons
Its ghostly remains a testament to how incredibly well built the Atlantikwall is as well as it's fascinating frescoes painted on the walls by the German soldiers that worked there. Though Turm 4 is not a museum and is abandoned is why this is so much more interesting, again it leads and leaves to the imagination of what took place here during WWII.
Turm 4 – The Queen of the Atlantikwall and one of the most treasured sites along the French coast.
The Hillman Bunker complex is another fine example of a beautifully preserved German bunker site and is located in Normandy. This site has a rare 605 type bunker with room for two gun types.
The Crisbecq batterie also in Normandy is another fine example of a wonderfully preserved batterie. Located not far from Sainte Mere Eglise this is a must visit on any trip to Normandy.
Should those concrete constructions kept for the future and why?
Most definitely yes, again as mentioned before these are testament to history, to time and to the sheer enormity of the construction project within itself. As time passes on the bunkers and remains as your next question poses is an important one, what do to with the remains of the Atlatikwall?.
One of the things I love about France is that it seems as though time has stood still in a way especially as you make your way through the Northern parts and through Normandy, it is as though it was yesterday so when you stumble or find a German bunker from WWII you are immediately transported back in time, little has changed.
What I found on my last visit was how incredibly new the concrete on some of the bunkers still looked, some of the remains were as clean and pristine as they were in 1942 when they were first constructed.
Photo credit: wiki commons
But what should the French Government do? What should be created is a Heritage organization.
An overseeing body to keep these remains intact for all to see as time goes on, an educational and historical environment for us to learn from the past.
Can you imagine the Egyptian Government allowing the Pyramids of Giza to lie waste? I think not. But it's not just the French, an overseeing body from all countries or a consortium needs to be created including Denmark, Norway, Belgium and the Netherlands to make sure that the Atlantikwall is seen for all generations to come.
Photo credit: wiki commons
Many bunkers are lost to redevelopment, vandalism or simply neglect. What are your thoughts on that?
It's an archeological tragedy to see and learn of the Atlantikwall being destroyed or left to neglect.
When I was at Turm 4 at the Batterie Todt one of the things I was greatly looking forward to was seeing and photographing the frescoes painted by the German soldiers garrisoned there.
I had seen some beautiful photographs on-line which were taken years ago but when I got there the walls and paintings were destroyed in part by graffiti, a disgrace to the history represented here.
The inside of Turm 4 at the Batterie Todt in Audinghen, France. This is one of the frescoes that was destroyed in part by graffiti vandals, a great tragedy.
In some parts of France the developers have found creative ways around this by building around or even in some cases having part of a bunker be part of the house, at least in that way they were not torn down.
Photo credit: wiki commons
Time and tide have also seen the demise of many of the coastal fortifications. Some have fallen into the sea, others have fallen from the sand dunes they once perched upon and now face a long journey to the shores edge.
Tell us of a bunker preserved as a museum, showing to the visitor how life was inside one of these.
Aside from the Batterie Todt museum in France there is Batterie Tirpitz which is now a superb museum outside of Ostende, Belgium which I visited in 2016.
This large open air museum is beautifully preserved and gives us a wonderful look at the life of the German soldier garrisoned at an Atlantikwall bunker complex.
This is also a great example of preservation as this land the bunkers was saved by Prince Charles the Count of Flanders whose family owned the land. The museum offers over 60 bunkers, artillery positions and observations posts.
How many fortifications were built, how long it took to build them and what were the standard plans (e.g. machine gun posts, observation posts, battery locations, etc.)
It's hard to estimate as I haven't seen an exact total I think due in part as there really hasn't been an assessment by any one group of people but estimates have been totaled to be about 12,000 bunkers in France alone.
However according to leading experts Xavier Dorsch and Rudi Rolf the Organization Todt or OT the construction wing of the Third Reich were working on 23,000 structures at the time of D-Day.
Rudi Rolf estimates that about 15,000 Regalbauten and 10,000 VFs had been completed on the entire Atlantikwall, so basically we are looking at about 25,000 German bunker types.
This is an unbelievable and staggering achievement considering the time constraints, the amount of concrete poured and the men tasked to build such a herculean task.
Photo credit: wiki commons
It's important to know that not all of these were gun casemates as some might imagine.
The Atlantikwall comprised of a number of different bunker types such as garages for equipment, telephone bunkers for communications exchange, radar bunkers, infantry bunkers, observation bunkers, fire control batteries and so on.
The Army and Navy had about 1,700 different artillery gun types in France of varying caliber and of which consisted of 75mm, 76.2mm, 88mm, 100mm, 105mm, 122mm, 150mm, 170mm, 210mm, 240mm, 280mm and other varying light and heavy gun types.
Photo credit: wiki commons
The Atlantikwall encompassed different elements:
Luftwaffe – The German Airforce with air bases and radar positions.
Kriegsmarine – The German Navy with its naval forces, radar positions and coastal artillery.
Heer – The German army with its defensive positions consisting of bunkers and obstacles.
The portions of the Atlantikwall in France alone consisted of over 17,000,000 cubic meters of concrete, 1,200,000 tonnes of steel and cost some 3.7 billion Deutschmarks.
Photo credit: wiki commons
There are some fine examples of coastal batteries still visible today. In France we have Batterie Todt as mentioned above. Batterie Oldenburg which is located in Calais not too far from the ferry terminal, the Longues-sur-Mer batterie in Normandy is beautiful preserved example of a coastal batterie still with its guns intact.
One of the more tragic losses the Atlantikwall has suffered is that of the Lindemann Batterie which was located in Sangatte, Northern France again relatively close to Calais.
This enormous coastal batterie consisted of 3 massive gun emplacements and was a big propaganda tool used by the Third Reich.
Photo credit: wiki commons
This beautiful batterie survived the war until the 1980's when plans were made to start the cross channel project, the Chunnel.
The engineers needed a place to dispose of the millions of tons of sand and channel debris called spoil, the location to dispose of this spoil sadly was chosen at Sangatte at the very location where the Lindemann batterie stood.
Today there is a man-made lake and beneath that lake lies tons of channel debris and the 3 massive casemates of the batterie Lindemann.
The three gun casemates of the S262 type were named Anton, Cesar and Bruno and consisted of 406mm SKC/34 guns.
Each casemate consumed 17,000 meters of concrete and the guns were mounted in C39 turrets. They were entirely self-contained with their own power generation and ammunition magazines.
But apart from the loss of the Lindemann batterie there does still remain some fine examples of Coastal Batteries along the stretch of the Atlantikwall as mentioned above including the Batterie Tirpitz museum at Raversyde in Belgium which is featured on our web site and other gems such as Batterie Vara in Norway.
As time progresses we will update the web site with new additions, time permitting of course.
This is a current satellite photograph of where the Lindemann batterie once stood. Beneath that massive man-made lake lies the remains of the 3 gun casemates. One of the most tragic losses to the history of the Atlantikwall.
The answers on statistics are credited to S.J. Zaloga and his excellent books on the Atlantikwall history and The Atlantikwall History and Guide by Kaufman and Tonic. Both of these authors and relative books have links to purchase from my books guide on our web site at www.germanbunkers.com